Featured Professional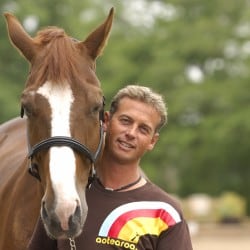 Carl Hester MBE is one of Britain's top dressage riders and trainers.
Get straight tens with our best advice from the UK's top dressage gurus.
Photo: FEI/Arnd Bronkhorst/Pool Pic
1. Turn your horse out. It helps to relax them and get them used to being around other horses – especially if they are young.
2. Warm-up and cool-down, just walking around on a long rein for a few minutes before and after your schooling session is not enough according Carl. Get out for a 15 to 20-minute hack and then do your warm up – this will benefit your horse physically and mentally.
3. Do lots of transitions, you should do hundreds of transitions within and between the paces, we try to do something different every 30-40 metres. This will improve engagement of the hindquarters and encourage a nice swing through the back.
4. Lighten your aids, otherwise you'll need a gas mask at the end of a Grand Prix test.
5. Work on your own fitness. This will help you to become a stronger, more elegant rider and will have knock on effects to your horse.
6. Your horse should not be afraid of your whip and you should only have to use it when you need something extra. It should be respected by both horse and rider.
7. Riding forward is a term commonly used but if you are out of balance then there is no point riding forward. You must find your balance before riding forward so that you are helping and not hindering your horse.
8. Rise to the trot while training, not because its easier. It's better for your horse, and encourages a trot with a lift.
9. Baby shoulder-in – ride your shoulder in on the quarter-line, this way you know you are controlling the quarters and your horse is not relying on the wall. Start with small angles of shoulder-in, help him with the outside rein so he comes through the outside shoulder, and starts to find the lift and push into the contact in the outside hand.
10. Flying straight – firstly control the canter, and have your horse on the aids before you attempt to learn changes. Use half circles and if necessary use the wall to keep the straightness when you are learning the changes.
Your Comments