Featured Professional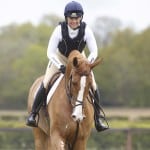 Pippa Funnell is firmly established as one of the world's leading three day event riders.
Does your horse turn a bit wild at the sight of a cross-country fence? Pippa Funnell has some easy exercises that'll keep you in control
If you read Pippa Funnell's cross-country training feature, Hold your horses, in Spring 2011 Horse&Rider, you'll have met our models Richard Hedges and his eight-year-old Dutch Warmblood, Rodney who won a lesson with Pippa courtesy of Champion. Like many horses, Rodney has a tendency to be a little over-exuberant on the cross-country course.
"Exuberance is a good thing and it's important not to completely squash that, but young horses need to learn to contain themselves for when they move on to bigger, more complex courses," explains Pippa.
In this video, Pippa gets Richard and Rodney performing some easy exercises over small cross-country fences, to keep the keen gelding in check and get him looking before he leaps. Try the exercises for yourself and see if they work for you…
Scroll down to read how to ride the exercises shown in the video.
Warming up
Try cantering for 10 strides off your horse's back in a forward seat, then 10 strides sitting up in the saddle again. "Balance the horse with your upper body rather than your hands," explains Pippa. This exercise will improve your horse's reaction time to your change of position when you come to approach fences later on.
Steady approach
Try popping a single fence from trot, taking it as slowly as possible before and after the jump. "This gives you the confidence to jump without speed," explains Pippa. "Focus on squeezing your horse off the floor with your leg, then see how quickly you can get him back to walk on landing."
Drop fences
Tackle a small drop fence in the same manner as above. Rodney fairly leapt off the drop first time round, so Pippa advised: "Approach in trot, squeezing with your leg on take-off while using your upper body to steady and balance your horse. Stay sitting tall right up until the point of take-off."
Twists and turns
Incorporate some tight turns and short distances into your schooling, but always remember to present your horse at the fence correctly and straight, to prevent a run-out like Rodney had first time round. "The secret is to use small fences, to so if things don't go to plan you can safely jump from standstill," explains Pippa. "Onward-bound horses may find this difficult at first, but just remember to keep your hands low, soft and still throughout."
Find more cross-country exercises and advice from Pippa, including diagrams of fence complexes you can try, in Spring 2011 Horse&Rider Magazine.
Horse&Rider would like to thank Champion, sponsors of Pippa Funnell, for their help with this feature.
Your Comments