It's something no one wants to think about, but at some point every owner experiences the pain of losing their beloved horse. H&R helps you make sense of moving forward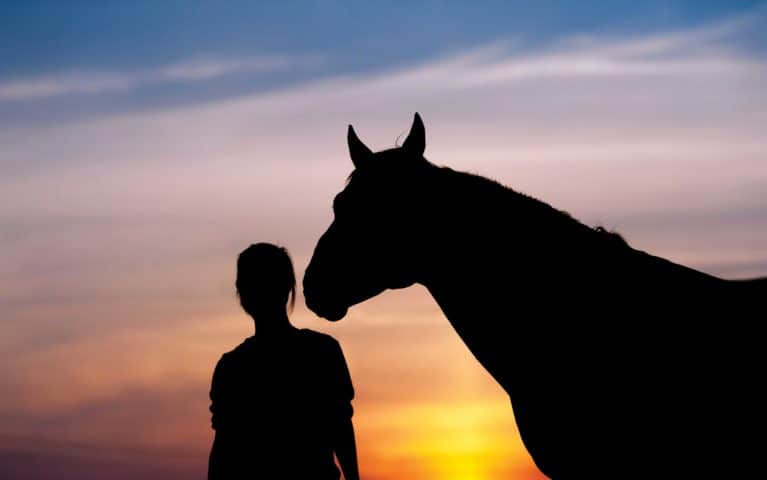 "It's only a horse." As riders and owners, we've all been on the receiving end of this sentiment. We've heard it when we've missed a social engagement to change a poultice or when we've spoken fondly of our horses' achievements, as though they're members of the family.
But this is because to us, they are members of the family, and the emotional, physical and financial investments we put into them run deep. When they inevitably leave us, either because they've reached the natural end of their full and active lives or because an accident or injury foreshortens their time, it's not 'only a horse' that we have to learn to live without. It's a bond built up over time and with great patience, a reliable comfort that we've grown to depend on and, in many cases, the crumbling of future plans. Losing a horse can also mean a momentous change in lifestyle, as horse ownership not only takes up a lot of time, but is often the root of important friendships and social circles.
The weight of grief can often seem too heavy to lift, especially in the early stages. But there's a light at the end of the tunnel – the day will come when you can look back on the memory of your horse with fond remembrance, rather than with pain, but the way in which you grieve and how long you need to feel like yourself again is personal to you.
The grieving process
Although grief doesn't follow a linear pattern and everyone reacts differently to loss, it can help to familiarise yourself with the five stages of the grieving process. You may experience some or all of these, and not necessarily in this order, but knowing that there's a root cause for the plethora of emotions and that they're normal can help you find your feet in the bereavement process.
Denial is often the first reaction to grief. You may experience it after your horse passes as an internal insistence that 'this can't be happening', or you may feel it pre-emptively if he's suffering from an illness or injury that forces you to make the final call. Denial is an emotional defence mechanism that's used by your subconscious to block out the initial pain of grief, allowing you to process it.
Anger is how the first real waves of grief are usually expressed. Once the denial phase ends and the pain of grieving begins to break through, you may find yourself lashing out at friends or family, feeling angry at yourself, or resenting your horse for leaving you or the vet for not saving him. This is often cyclical – anger will be followed by guilt, which will turn back into anger.
Bargaining is how your subconscious deals with circumstances beyond your control. It may manifest itself as 'what if' and 'if only' thoughts – 'if only I'd spotted the problem sooner', 'what if I'd done something differently', 'if only the circumstances had been different'. Or, if you're coming to this point in the grieving process prior to your horse being put down, you may find yourself trying to make deals in your head, such as "if my horse gets better, I won't get frustrated with him anymore when he misbehaves."
Depression is the emotion most commonly associated with the grieving process. It can appear in a variety of ways – you may feel worried and regretful about the practicalities and costs related to the loss of your horse, if you own more than one horse you may worry that you've neglected the others while processing your loss, or you may feel as though your life is empty or lacking in meaning without your horse. Even just getting out of bed in the morning may be a struggle and you might think you won't ever feel happy again.
Acceptance isn't a miracle cure that will suddenly make you feel alright about what's happened, but rather the recognition that life without your horse is the reality now. Accepting the truth means that you can start to be proactive again – you may think about reintroducing riding into your life or, if you own more than one horse, you may take steps to adjust your remaining horse's routine so that he can cope with the loss of his companion. The positive steps you take during this stage will help you to get back on terra firma and allow you to be happy again.
The weight of responsibility
The loss of your horse can come with complicated emotions unique to animal bereavement. If you've made the hard decision to put him to sleep, your grieving process may start from the moment the call is made. You may feel guilty or angry at your self, or worry that you've made the wrong choice. These feelings are normal and it can often help to chat with your vet to help mitigate the idea that you could have done something differently.
Helping healing
Although it can seem like the hardest thing to do, taking a proactive approach to recovery can be a huge help. If your horse was at livery, you may be tempted to ask a friend to clear his stable and pack up his belongings so you don't have to face it, but often, doing it yourself can help you come to terms with the situation. You may also be surprised to find how much support and sympathy you receive from the other liveries, giving you an emotional support system you may not have realised you had.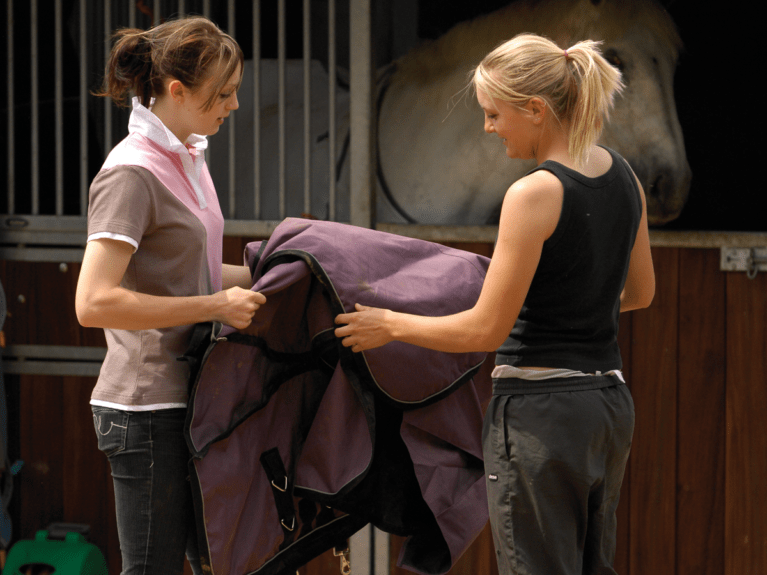 Coping mechanisms
Verbalising your emotions is a productive way to learn how to understand and manage them, making it a vital step in the healing process. There are several ways you can go about this and any of them, or a combination, can be equally helpful…
chat to a sympathetic friend or family member. Talking to someone you trust and who you feel comfortable expressing your emotions in front of can help you release some of the tumultuous feelings that may build up, particularly in the period immediately following your horse's passing.
keep a diary. Writing your feelings down allows you to express yourself without feeling self-conscious and can also help you keep track of how you're coping. You may find that as time goes by your entries focus more on recalling happy memories than on the emotional upheaval.
speak to a professional. Bereavement counsellors are trained to understand all of the complex emotions that surround the grieving process, and can help you process and accept them. Many specialise in pet bereavement, so don't feel as though you're not eligible to speak to someone. Counsellors are particularly helpful if you really feel as though you can't cope.
Stronger together
Knowing that you're not alone and aren't being irrational can take the pressure off you to be okay straightaway. Talking to someone who's gone through the same thing can provide a huge amount of comfort.
Moving forward
Deciding to ride again can come with its own complicated spectrum of emotions. You may feel guilty about letting another horse into your life or you may find that you make unfavourable comparisons between a new horse and the one you've lost.
The key is to give yourself plenty of time. If you competed regularly with your horse, it's easy to put too much pressure on yourself to get back out onto the circuit and continue your season. But unless you're a professional rider and rely on competing to make a living, it may hinder your grieving process
to push yourself to do too much, too soon. There's no set timeline for when you'll be ready to reapproach riding – instead, listen to your gut feelings. When you feel that you genuinely want to ride again or enter a competition, do so. Don't do anything just because you feel you should.
If you don't want to take a break from horses, but find yourself struggling with guilt or other negative emotions, volunteering can be a productive way to overcome them. Spending even just an hour a week helping out at a rescue centre or RDA group will allow you to spend time with horses without feeling disloyal to your horse's memory, and knowing that you're having an impact on another horse or person will allow you to foster positive feelings about the time you spend there. You'll also inevitably become part of a small volunteer community, which will offer friendly support and a welcome distraction, and can help you to feel better through the hard times.
Giving yourself a break
The plethora of emotions that grief stirs up can burden you with a huge amount of pressure and negativity. Try to remember a few key things – you're not at fault, nor are you disloyal or heartless if and when you decide to get back in the saddle.
Seeking closure
Grief isn't a finite emotion, which means that you won't reach a point where you forget or no longer miss your horse. Instead, the healing process lets you eventually take the positives – the wonderful memories and happiness he gave you – and move forward unencumbered by the pain of grieving.
When you've reached this stage, it can be cathartic to find a way to memorialise your beloved horse. This may be a private homage, such as commissioning a portrait or having a piece of jewellery made, or it can be something that other people can share in, such as sponsoring a perpetual trophy in his name at a favourite show.
Calling for back-up
There are several resources available to offer support and a sympathetic ear as you come to terms with the loss of your horse…
The Ralph Site is a not-for-profit online resource to help you manage the loss of a beloved horse or pet. With private forums, access to qualified bereavement counsellors and memorial pages, it's a comprehensive database. Visit theralphsite.com
Blue Cross offers a bereavement support helpline, meaning that there's always someone ready to lend a sympathetic ear and help you through. Visit bluecross.org.uk
The British Horse Society offers a volunteer-run scheme called Friends at the End, which operates nationally and can provide support throughout the process – you can even call upon a Friend to be there for support when your horse is put to sleep. Visit bhs.org.uk
Case studies
Sophie and Leyla
When I first got my mare, she was untrained and in need of some serious TLC. The following three years of careful training and love turned her into my dream horse, until she was sidelined by a field accident. Still lame after months of box rest, Leyla was referred to a local equine hospital for keyhole surgery to pinpoint the problem. Because her surgery coincided with an A-level exam, I didn't get to see her before she went in.
I headed for the hospital and was greeted with the words that no one wants to hear: "She's torn her cruciate ligament – she'll never walk properly again. We need to say goodbye."
Under anaesthetic, Leyla didn't look like my big, grumpy bay mare, but that didn't make saying goodbye any easier. We decided not to wake her up and she was put to sleep on the table.
The next few days felt like a blur. I spent hours going through photos and making a scrapbook of the memories that Leyla and I had made together. I still look at it regularly – I think working on it straightaway helped me to let out some of the emotional build-up and focus on the positives, such as the incredible transformation she'd made over the years.
Barbara and Oliver
I had known Oliver since before he was born – he was bred by a friend of mine and I went with her to take his dam to stud. We first met when he was three days old, then at six months he came to me for weaning. When he was a year old, I bought him. He lived with me until he was 24 – three years into a Cushing's diagnosis that accompanied painful osteoarthritis and laminitis.
When he suffered, then recovered from severe colic, we decided that the pain of his various conditions was too much and the kindest thing to do would be to put him to sleep. The vet gave him enough bute to allow him to spend the weekend enjoying the sunshine in his field, then on the Monday, we said goodbye.
The hardest part of losing Oliver was the enormous hole in my daily routine – I was so used to getting up at 7am to take care of him that I found I still had to get up and get out of the house every morning. I walked four or five miles every day, following our old hacking routes. I also went back to the yard and spent time with the horses who live in his old field, which helped me to feel close to him again. I didn't want to ride for six months and even now I would rather focus on caring for horses than riding.
I don't think I want to own a horse again, but I'd like to look after them, perhaps by volunteering at a rescue. Oliver was a cheeky devil and a lovable soul, and while I'll never find one like him, I'd like to help other horses feel loved and cared for.
Kate and Colonel
Colonel became part of the family when we bought a house and discovered that a neglected, 10-year-old miniature Shetland came with it. He was nearly feral and suffered badly from sweet itch, his body covered in open sores. Each day, I spent time in his field, bringing feed to tempt him closer. After a few weeks, I was able to catch him and start treating him. As Colonel emerged from the pain of his suffering, he turned to me as his human friend who had helped him. From then on, we shared a special bond and developed a deep understanding of each other.
One morning, 22 years later, Colonel was diagnosed with choke, which proved to be impossible to dislodge. I briefly considered the option of hospitalising him, which may have entailed surgery, but my instinct was that with his advanced years, this was his time to go. I asked the vet to put him to sleep.
With tears in my eyes, I wrapped my arms around him and shared a few quiet moments on my own with him. He died very peacefully and quickly.
The silence after he died was poignant. I still miss our little chats in the field each day and the way he used to gallop towards me, whinnying with excitement.
Colonel was well-loved by his many friends and being able to share in the wonderful memories of this truly remarkable pony made it easier to deal with his passing. Having two Connemaras at home who still needed my care and attention helped, too.
Your Comments