UK-based eventer Andrew Hoy has been competing internationally for four decades, and has ridden 11 different horses at Olympic Games and World Championships – he's the only Australian to have ever competed in seven Olympics. Today he's working with Brigant, an eight year old Anglo Arab gelding by Ceasar van de Helle, owned by OSO Arabians stud. To date, Brigant has run at BE100 and will step up to Novice / CCI2* this year.
"Brigant is very 'young' in his education. He's changed massively in the time he's been with us, however, and we're currently working on riding leg to hand with him. This method allows you to utilise your seat effectively and quietly. You're essentially creating energy and impulsion with your legs, and containing it with your hands, releasing it as required," Andrew explains.
Riding forward into a contact
Andrew's working student Ella Roga, who's competed up to 3* level, is riding Brigant today, and Andrew wants her to focus on riding him forward. "Once he steps forward into a contact, the world will be your oyster."
The gelding is ridden in a Bombers McHardy bit, which has a medium port that creates space for the tongue and relieves pressure. The roller in the middle increases bar pressure, lifting the horse's head a little as a result, and discouraging leaning.
Andrew suggests that Ella starts by warming Brigant up in a relaxed fashion, with her knees turned in, so there's no spur contact, keeping her hands up, and staying elastic through her elbows. "Occupy his mind, and keep changing direction in the school – ride him forward," Andrew reminds Ella. Brigant does tend to lift his head at the start of transitions, which Andrew describes as muscle memory. "It's like you're holding a plastic bottle of water that's full, with the lid off. Experience and muscle memory tell you not to grip it, or it will spill. The horse will experience a similar concept. If he has experienced ill-fitting bits and has worked with resistance in his frame, he'll automatically repeat an old habit, such as raising his head at the start of transitions. If we can overcome this, we can create a relationship of trust and mutual respect between the horse and the rider."
Get the basics correct at home
Andrew reminds Ella to be consistent with her leg aids, to try to establish a regular rhythm and ride through the tension. They spend the session working on Brigant's rhythm and riding him forward into Ella's contact, which is consistent and inviting.
"It's vital to get the basics correct at home, it's like playing football – if you train correctly, you'll play correctly.
"Essentially when educating a horse, we need to establish going forward, stopping, and turning left and right. The horse needs to be responsive to the rider's leg, and the rider must feel what's happening underneath them through their seat, and respond accordingly.
"Brigant is quite a complex character, in that we've improved him a lot, but are still working on perfecting our formula every day. Like a lot of horses, he resists the contact sometimes to protect himself from expected discomfort, based on past experiences. We need to show him that he can trust us to change this behaviour and move forward with a good experience, and therefore no resistance. It's important to remember that with a green horse we need to give them lots of breaks – they don't learn if they're physically tired."
Flatwork affects every discipline
"The way you work your horse on the flat affects every discipline. You can't, for example, get a quality jump if you have a bad approach to the fence, and the quality of your approach comes back to your flatwork, and the basic skills you've worked on. The work we do on the flat with our horses is the most important factor to our success when running across country and also in the showjumping."
Andrew explains that educating the horse is key. "For example, to help teach the horse to slow down and stop, I'd ride towards the fenced end of the arena, saying 'whoa, whoa', and using a take and release feel with my contact. The wall or fence is visually helping teach him to stop, and allows me to use a gentler pressure, instead of a sharp rein pull. To re-emphasise, horses really do just need to know four things, at the most basic levels – go forward, stop, go left, and go right. If one doesn't work, you have a problem!"
Andrew Hoy's 10 top tips for encouraging a horse that's resistant, and doesn't yet trust the contact
Your prime focus is riding 'leg to hand', creating contained energy and impulsion. This'll help educate your horse to work from behind, and step forward into the contact.
Don't use any harsh rein contact or sharp rein aids. Keep your hands still, and carry them.
Try to be elastic through your elbows, not fixed.
Occupy your horse's mind and keep changing direction in the school, utilising school movements and always riding forward.
Be consistent with your leg aids and work on establishing a good, regular rhythm. Rhythm is key to everything, no matter what your riding discipline!
Ride through any tension. If your horse lifts his head during transitions, use a restraining contact so he doesn't run forward, but make the duration of the transition longer. Keep the leg on, to encourage him to step forward into the contact.
Give a green horse lots of breaks – he won't learn if he's physically tired.
When you stop for breaks, ask yourself, is your horse responsive to your leg, and can you feel what's happening underneath you through your seat? Take it back to these basics.
Remember, we want to create a relationship of trust and mutual respect. This can mean spending time overcoming problems that are rooted in your horse's past.
I'm the sportsman I am now, due to the great team of experts around me. From tack and bits, to training, equine dentistry, horse care, and nutrition. So, check that everything is working optimally for your horse, especially his bridle, saddle, girth and bit. Your horse wont step forward into a contact if he's resisting an uncomfortable mouth pressure, or has any ill-fitting tack.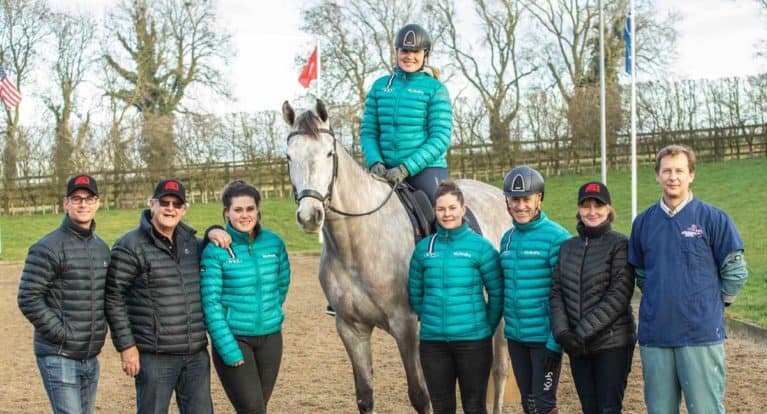 Andrew has a new role as Bomber Bits'Elite, Rider & Technical Development Partner.
"Bombers Bits are handmade, and the company is now performing equine mouth moulding sessions with an equine dental technician (EDT), meaning they can provide tailored bits based on a mould of each horse's mouth. The fact that no horse has the same mouth is something I never thought of before, and I find it fascinating," Andrew concludes.
The eventing star categories mentioned in this article relate to the new FEI category system – a useful guide to which can be found here.
Find them on Facebok here, BomberBlueBitsUK. Contact Distributor Equine Management for Bombers Bits UK stockists.
Photo credits to: Julian Portch Photography
Watch a video of fellow eventer Caroline Powell's equine mouth moulding clinicwith Bombers Bits, whereby an EDT took moulds of her horses' mouths, for bitting prescription.
Your Comments