Your essential winter kit list
Posted in Management
Cold, wet and dark days at the yard aren't winter's best selling points. Here's Team H&R's winter essentials to make the season a bit more bearable.
For you
Headband
Keep those ears warm on chilly winter mornings with a cosy headband – store it in the glovebox of your car so you don't get caught out! We love the Noble Outfitters Jessie headband, made from a cable-knit wool blend with a soft, fleece lining.
RRP £14.95
Waterproof jacket
A weatherproof jacket is a must-have for changeable winter weather. The showerproof, windproof Black Heart stable jacket has a packaway hood and breathable lining, making it perfect for riding in, too
RRP £55
Headtorch
Hurray for headtorches! They keep your hands free for opening gates, checking rugs and putting on headcollars. We love the Horseware LED cap, with five LED lights in the peak and three spare batteries.
RRP £9.95
Gloves
A good pair of gloves is essential to stop your fingers from freezing. The Perfect Fit gloves from Noble Outfitters are breathable with reinforced rein fingers and touchscreen-compatible fingertips so you can answer your phone without taking your gloves off.
RRP £19.95
Thermal breeches
Thermal breeches are the answer to cold legs – a particular hazard of riding on chilly days. The Dublin Thermal Breeches are also water-resistant, ideal on changeable days
RRP £94.99
Leather gloves
A winter competition outfit needs toasty warm leather gloves to finish it off. We love the Pro Show winter gloves from SSG – the Thinsulate lining gives warmth without bulk.
RRP £42
Fleece top
Layering is the best way to stay warm on cold days at the yard. This Noble Outfitters Athena top works as a base- or mid-layer to keep you snug under your coat.
RRP £39.95
Waterproof trousers
There's no avoiding rainy days, so waterproof trousers are a must-have. This fab pair from Just Chaps are lightweight and breathable with a non-slip seat for riding.
RRP £68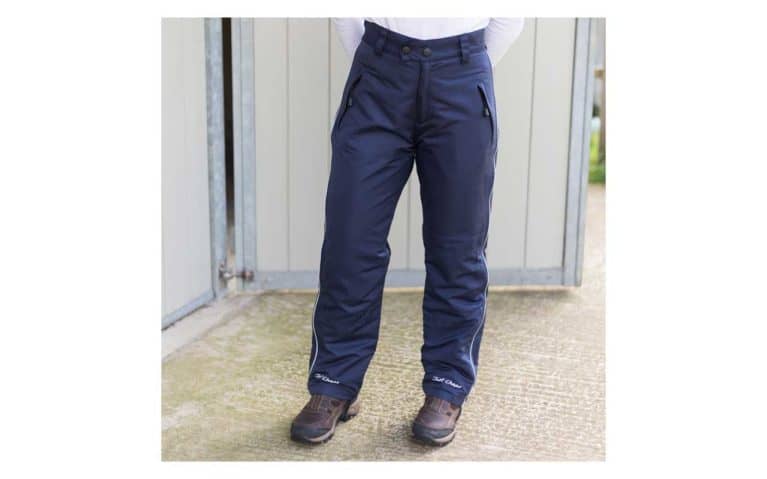 Country boots
Warm toes are essential to a happy day at the yard. We love these Ariat Eskdale H20 boots. Made from technical, waterproof, full-grain leather with a stretch gusset for comfort and fit.
RRP £179.99
Softie Socks 
Warm toes really are key to an enjoyable ride, and everyone agrees that cold feet are one of the worst things about winter. Keep your feet toasty warm in your boots with these soft, comfy Softie socks from Horseware.
£4.95
For your horse
Full shoulder protection
Rug rubs are a hazard of the winter season. The silky-smooth material of this Bossy's Bib will protect his shoulders, chest and withers and is hard-wearing and washable too.
From £25
Exercise sheet
High vis is a hacking essential, especially when visibility is reduced. We love this WeatherBeeta 300D Reflective Exercise Sheet – its reflective strips on the sides and tail flap help you stand out on the road.
RRP £44.99
Turnout boots
The cleaner and drier you can keep your horse's legs the less chance of mud fever and the shorter your grooming time – winner! These turnout boots from LeMieux are made from antibacterial neoprene – plus you can just pop them in the washing machine or hose them off.
RRP £44.50
Shavings
Make sure he's comfy on the inevitably longer nights in his stable. Littlemax dust-free, small flake shavings don't contain any preservatives and have the added benefit of the antiseptic properties of pine.
From £7.80
Turnout rug
Don't scrimp on a good-quality, well-fitting turnout rug. The WeatherBeeta ComFiTec Plus Dynamic Combo Neck Heavy has a 360g fill and a 1200D outer to keep even the most boisterous horse dry all winter.
RRP £114.99
Stain remover and whitener
Winter baths are a last resort, so stable stains can be a nightmare. The Absorbine stain remover and whitener will make your life less green-tinged and works even on tough stains, leaving your horse's coat soft and shiny.
RRP £9.90
Your Comments