Looking for a polework exercise to really get your horse thinking? Check out this exciting layout – its benefits definitely outweigh the set-up time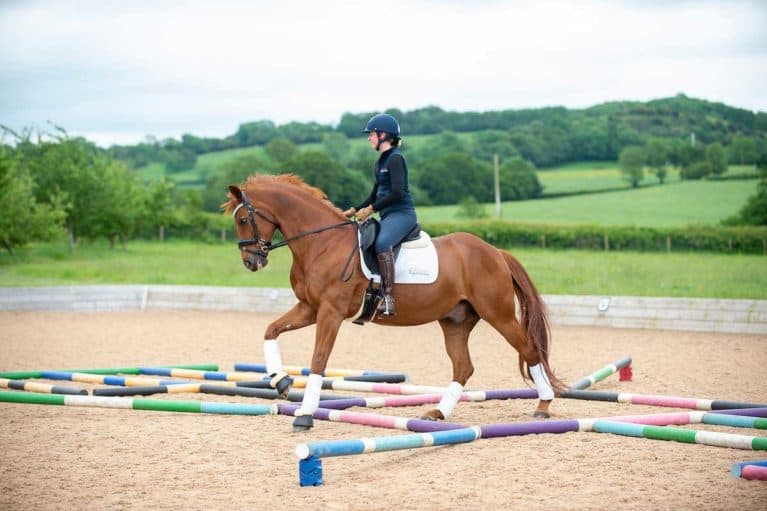 Our expert
Elizabeth Allen BHSI UKCC3 is part of the Bristol-based Collective Equestrian team. She's a BHS, Pony Club and BD accredited trainer, and has competed internationally at Under 25 Grand Prix and at the World Young Horse Championships.
Our model
Olivia Robertson rides 17-year-old Don Dellero (Lexi), Elizabeth Allen's Hanoverian gelding, who has successfully competed at Advanced level dressage.
A super-sociable exercise that offers something for everyone, a demanding set-up that keeps your horse focused, or even a bit of fun to shake up a stale schooling regime – whatever you're after, this versatile polework exercise has you covered. So, if you want an all-purpose plan that ticks all the right boxes, this is the one for you. Let's take a look at how to do it.
Set up your pole layout
You'll need plenty of time and man-power to set this one up but, we assure you, the benefits are numerous! You'll need…
20 3m trot poles
four 3.5m trot poles
four pole pods or blocks
Start building from the centre outwards, with the box over X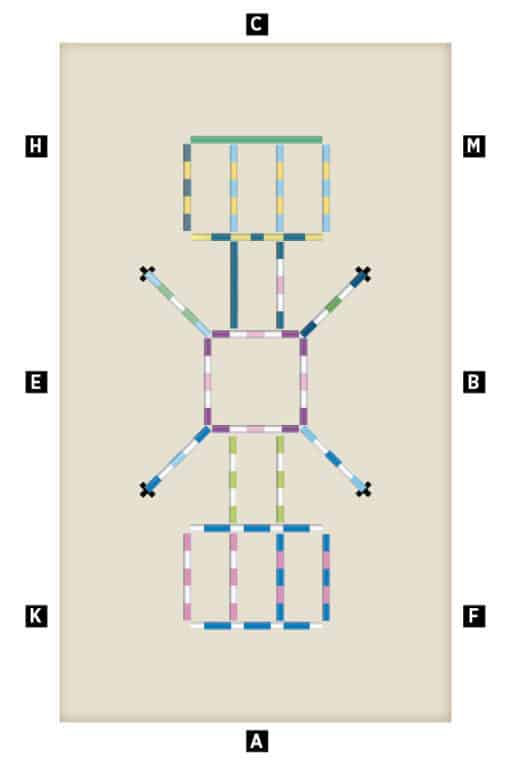 Top tip The 3.5m poles should be used on the first and third boxes to make rectangles. However, if you don't have any longer length poles, you can just leave a small gap at each end of a 3m pole.
Pole work exercise 1: through the middle
How to ride it… Take your horse onto a figure-of-eight in trot, using the square box of poles as the centre of your shape.
Mix it up… Add canter into the exercise. If your horse jumps, or has established flying changes, this exercise offers him two opportunities to get the correct change over the poles.
If your horse isn't confident changing lead over the poles, test his suppleness by adapting the exercise and staying on a circle in canter but changing the rein in trot when you're ready. By doing it on both reins, you can test that your horse offers the same degree of bend both ways.
Good for… warming up and improving suppleness.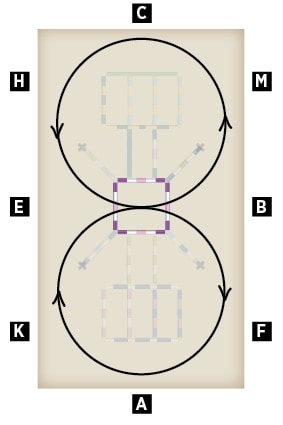 Pole work exercise 2: down the centre
How to ride it… Ride down the centre line in an active trot. When you're happy that he's maintaining a good rhythm, add in some transitions. For example, trot between the first set of poles, transition to walk between the next, halt in the centre, then go back up to walk and trot between the next sets of poles.
Mix it up… Rather than sticking with the centre line, why not take him slightly off the centre line through the channels either side? Better still, rope in a friend to call out which line to take. Horses can get used to riding the same shapes and tune out your aids, so by moving the exercise either side of the centre, you'll test whether he's listening to you.
Alternatively, you could step up into canter. Trickier than it sounds, this highlights just how much energy you need to maintain the pace and the straightness.
Good for… improving straightness and adding energy to your horse's way of going.
Top tip You may find that when you start this exercise, your horse takes three choppy trot strides between the poles. However, as you progress through the exercise and develop your forward rhythm, push him to finish the session on two.
Pole work exercise 3: making loops
How to ride it… Use the sets of four poles on either end of the layout to mark out a track for an uneven three-loop-serpentine. This exercise is great to highlight whether you're using your outside leg together with your inside rein to make the turns – if you can't get your horse where you want him or he drifts out through his shoulder, you're probably relying on your inside rein.
Mix it up… Upgrade the exercise to a four-loop-serpentine by riding over the central box poles, too.
Good for… improving straightness and supporting turns with your leg.
Top tip Some horses are a bit too big or unbalanced to be able to comfortably make the fourth loop, so don't worry if this doesn't suit your horse – three loops is challenging enough.
Pole work exercise 4: raised pole circle
How to ride it… Starting on the left rein, take your horse onto a half-circle at E, riding over the fan of four poles. On your next lap of the arena, ride a half-circle at B, riding the opposite fan of poles. Repeat on the right rein.
Mix it up… As your horse becomes more balanced over the poles, rather than tackling each set separately, try adding them together on a circle. A smaller shape instantly ups the challenge, but make sure you keep riding forward positively to maintain the rhythm.
Good for… encouraging activity and bend through his ribs.
Change of pace
If you want to try this exercise in canter, the set-up requires a little manipulation from the ground. Roll one of the two central poles to the middle of the arc, removing the other entirely. Don't simply roll the poles together because they could cause your horse to trip if he knocks them.
Pole work exercise 5: riding a curve
How to ride it… Ride a sloping change of rein across the short diagonal at M, cutting in between the raised fan pole and the first floor fan pole. Repeat between F and E.
Mix it up… As you reach the track at E, ask your horse for a small circle. This is especially useful for an excitable horse, as he'll be constantly turning and thinking about the next question.
Good for… encouraging quick-thinking and maintaining rhythm.
Top tip Want to give you and your horse an additional challenge? Why not try these exercises in sitting trot? You'll both have to work harder to engage your core muscles.
Your Comments