Featured Professional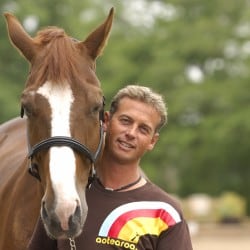 Carl Hester MBE is one of Britain's top dressage riders and trainers.
British Olympic dressage stars Carl Hester and Richard Davison have some brilliant advice for training a horse for dressage, including how to ride leg yield and flying changes.
In the run up to their spectacular new event, The Dressage Convention in October, which also features gold medallist Charlotte Dujardin and classical rider Sylvia Loch, they share their best dressage tips in Horse&Rider magazine's Mini Masterclasses.
In the October issue of Horse&Rider magazine, Carl and Richard explain how to ride dressage movements, including the canter flying change.
Carl says: "When it comes to teaching flying changes, each horse will have a different place in the school that suits him better, so you have to be flexible – so there are no hard and fast rules."
Developing simple canter-walk-canter changes is a good way to start. "I often use counter-canter on a 20m circle, asking for the change as you reach the track after X," says Carl. "Or canter a half 10m circle then a diagonal back to the track, asking for the change as you change direction at the track.
"Alternatively, you can place a pole on the diagonal 3-5m (10-16ft) before you get to the track, approach in canter and the horse should change as he strides over the pole.
"Introduce changes when your horse is well worked in, is light on your aids and off your leg," he says. "Just ask for a couple to start off with, but if the horse becomes confused or anxious, make a few attempts, then move on to something he's good at. Leave the changes for a week then come back to them – the horse may well find them easier next time around."
Your Comments