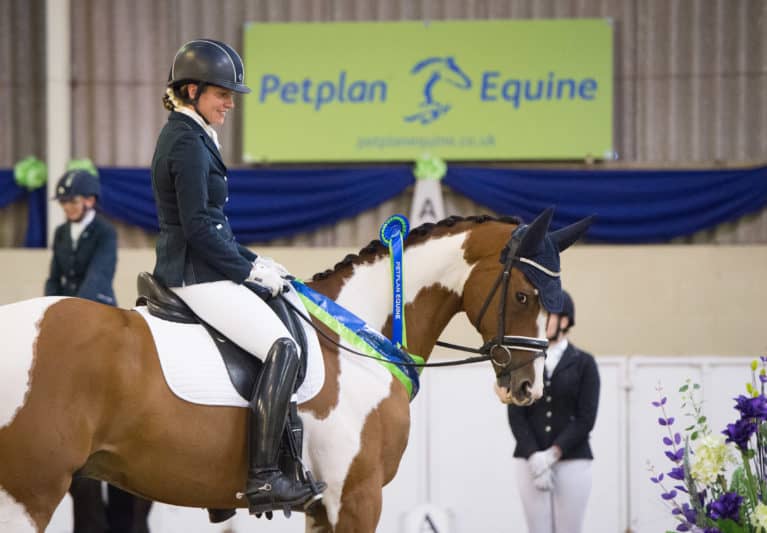 Want to polish up your dressage training with advice from a top international rider? Look no further than Petplan Equine's handy series starring Charlie Hutton
At last, we can start returning to a bit of normality – and when it comes to competition, that means all systems go! The postponed Winter Petplan Equine Area Festivals are taking place all over the country as we speak and many grassroots riders are working hard to qualify for the next season of Area Festivals, which are just around the corner. But whether you're working towards your next test, qualifier or championship, why not take advantage of training tips from one of the best in the business?
Maximise your marks with Charlie Hutton
After a prolonged break from the boards for so many of us, it can take quite a lot of time and effort to feel competition ready again. To help, Petplan Equine asked resident Area Festival expert and international dressage rider, Charlie Hutton, for his advice. Whether you're currently preparing for your Area Festival or just want to improve your horse's way of going, he's got some great tips and training techniques that you can use to help progress your riding or prepare for your next competition, helping you to maximise those marks…
Improving transitions 
Charlie shares advice on developing balance and improving transitions as a tool to demonstrate your horse's movement and increase accuracy in your test. Charlie advises that the prerequisite of a transition is to make sure that your horse is responsive and in a good way of going.
Circles and corners
In this video, Charlie asks us to focus on showing a clear turn at each of the four points of the circle to emphasise the continuous bend.  In the corners he suggests walk before the corner and trotting afterwards to condition your horse to slow down so you can ride deeper into the corner.
Balance and suppleness
Here the riders show how, when your horse is getting tense, you can soften them to the inside with flexion, support through the inside leg and balance with the outside leg.
Collection and lengthening
Charlie suggests keeping your upper body back and lower leg back and underneath you to shorten the trot while rising to help with the rhythm.
Click here to watch the full video series on the Petplan Equine website.
Against all odds – Amy and Tico
For some partnerships, qualifying for and competing at the Petplan Equine Area Festivals is what keeps them going no matter what obstacles are put in their way. This is perfectly illustrated by Petplan Equine Ambassador Amy Tilston  and her horse Tico.
Amy's journey with Tico has been a constant balancing act between competing, training and rehab. Tico was first diagnosed with a slipping patella, which Amy sought treatment for, before then being diagnosed with kissing spine, for which he underwent surgery. As well as muscular and skeletal problems, he also had breathing problems and needed a tie-back operation.
Despite all these problems the pair competed up to Advanced Medium and qualified for the Petplan Equine Area Festival Championships at Hartpury every year since they started at Prelim in 2014. But, sadly, in August 2020, knowing that Tico would never have a normal or comfortable life, Amy made the heartbreaking decision to have him put to sleep.
Amy absolutely loved competing at the Petplan Equine Area Festivals, explaining: "I'd ridden at a few Area Festivals with Annie (Tico's dam) and qualified for Hartpury, however, I was very new to BD and didn't really understand what the Area Festivals were and assumed the Championships were way out of my league so never attended. I wish I'd known then just what a competition it was. They encourage everyone to have a go, they really are for the true amateurs. When it's time to take out my young horse, Betty, I'll certainly be aiming for the Area Festivals. It's a good confidence giving series."
About the Petplan Equine Area Festivals
The Petplan Equine Area Festivals, which are hosted by British Dressage (BD), have been a major part of the dressage competition calendar for over 20 years and are a perfect entry for all riders to affiliated competition. The competition's grown exponentially and is now the most participated in BD series of all time. For many combinations, the Area Festivals are the pinnacle of their competition season and the format provides a great framework for grassroots riders to move up the levels.
Qualification for the Winter Area Festivals in 2022 starts on 30 June and runs through to 31 December 2021. Click here to find out more and to take part in the Petplan Equine Area Festivals.
For more on Petplan Equine Horse Insurance, visit petplanequine.co.uk
Your Comments