Featured Professional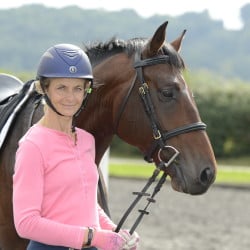 Best known for her partnership with Headley Britannia, Lucinda rides for Australia and has won Burghley, Badminton, and Rolex Kentucky.
Even professional riders use time outside the arena to improve their horse's way of going. Olympic eventer, Lucinda Fredericks, shares her tips for motivating a laid-back type
Cheerful horses are precious and rewarding to work with. Many genuine horses with affable characters carry that chilled-out attitude to their work and riders needs to find creative ways to reach fitness and training goals, while preserving their good nature. This doesn't mean the horses don't have to work hard and dig deep, but it helps to use hacking and the great outdoors so the work sort of sneaks up on them.
Exercise 1: Inspiration – work with another horse
Horses are social creatures and enjoy working with their friends. Schooling your super-relaxed horse out hacking with another horse encourages him to step outside of his comfort zone and keep up with his buddy. Communicate with the other rider, commit to keeping your stirrups level with one another and ride exercises such as this one…
medium trot for six strides
working trot for six straight strides – change your diagonal and bend
shoulder-fore left for six strides
working trot straight for six strides – change your diagonal and bend
shoulder-fore right for six strides
working trot for six straight strides – change your diagonal and bend
medium trot for six strides, repeat!
Riding exercises such as these in pairs is a real challenge and tests your ability to stay in step with another horse while adjusting the bend, angle and pace of your horse. You'll soon discover that your horse tries to slow in shoulder-fore left or feels better in medium trot when you're on the correct diagonal.
Exercise 2: Motivation – school on the way home
Horses often feel more motivated when they're facing home on a hack and you can use this energy to your advantage. As your horse draws towards home, he's thinking forward, which means he has the activity and impulsion to put his body into shapes he might normally find quite challenging.
Showing your horse that his body can operate in a bigger trot or move laterally builds the strength and muscle memory that will help him feel confident to try it again in an arena. 
This homeward bound enthusiasm gives you the perfect opportunity to develop your half-halt and puts you in good balance to experiment with medium trot or canter, half-pass or shoulder-in.
Exercise 3: Aspiration – finding a beautiful space and focus
Every time I put my foot in the stirrup I'm concentrating on improving the horse, whether that's moving towards a training or fitness goal. But I also run a business with half a dozen employees, manage around 20 horses, teach at home and away, and have a very busy daughter, Ellie, to keep tabs on. So, like many people, I've often got quite a few things on the go at the same time.
However, once I start a schooling exercise out hacking, there are no phone calls, meetings or decisions to make. I'm able to completely focus on the horse I'm riding and how he's feeling. Give it a try on a nice day, it's glorious! Allow yourself an hour to completely focus on your horse have get some good-quality work done.
Pick up the August issue of Horse&Rider to read more of Lucinda's simple hacking exercises to get your horse motivated. On sale 29 June 2017.
Your Comments