Looking for a new horsey career?
Posted in Management
Are you considering a new job, taking the next step on your career path or improving your knowledge? A horsey course could carry you in the right direction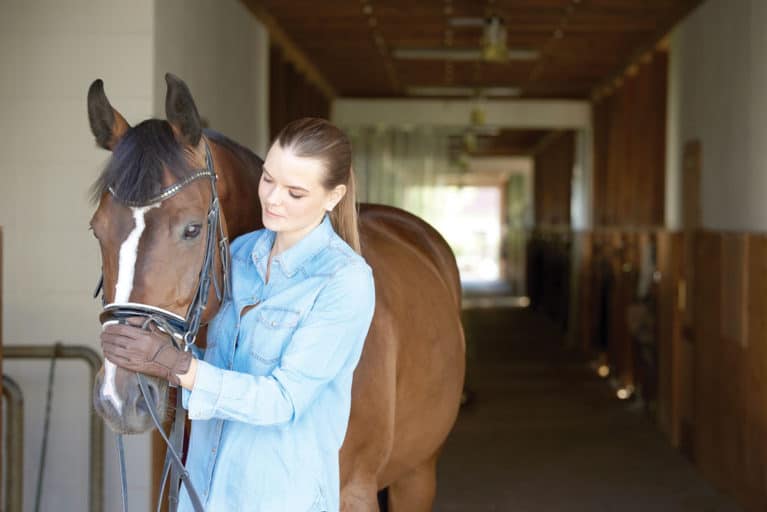 There's a horsey course out there to suit almost everybody, but with so many types on offer it can be hard to choose the right one for you. Before you get too carried away looking at the different options, it's important to take some time to consider things such as the skills you already have and what doors you're hoping the course will open for you. While some courses are quite general and can be applicable to a wide range of jobs, others are more specialised and there are fewer logical career paths at the end of them. 
Levels of learning
In England, Wales and Northern Ireland there are eight levels of education. The general rule is that each time you complete a level you're eligible to move on to study at the next one, dependent on the entry criteria for your course, which may require certain grades or for you to have studied certain subjects to provide you with a basic understanding of the content. However, in certain circumstances you can bypass a level based on work experience. Scotland has 12 levels built on a similar framework. These are just some of the types of qualifications you can expect to find at each level…
Level 1 – GCSEs (D–G grades), NVQ1
Level 2 – GCSEs (A*–C grades), NVQ2, intermediate apprenticeships
Level 3 – AS and A-Levels, NVQ3, advanced apprenticeships
Level 4 – certificate of higher education, higher apprenticeships, NVQ4
Level 5 – higher level diplomas, foundation degrees, NVQ5
Level 6 – bachelor degrees
Level 7 – postgraduate certificates and diplomas, masters degrees
Level 8 – doctorates
Top tip – Contact the learning provider if you aren't sure if you're eligible to study your chosen course or you need advice on the entry criteria. 
Top tip – Although the places you're looking at may offer similar-sounding courses, it's always best to check the list of modules on offer because these can differ depending on the facilities available. 
Nowhere nearby
Colleges that offer equine courses can be few and far between, but don't despair if there isn't one local to you. Many institutions offer distance learning options that allow you to access your learning materials and submit assignments online. Think carefully about distance learning – you need to be self-motivated and able to work under your own steam without the support of other people in the same situation. However, it can be a more practical option if you need to fit your studies around your job, family or horse.
Thing caps on
Starting a course can be a big undertaking and there are quite a few things to consider before choosing the best one for you. Here are just a few of the things you might need to think about… 
what skills and experience do you already have? If you have a number of years of workplace experience, you may be able to by-pass some lower-level qualifications and start higher up the ladder. 
what type of course would suit you best? If you're a hands-on person, a work-based qualification, practical course or apprenticeship might be the best option for you. However, if you prefer spending your day in the classroom or lab, rather than at a yard or on the road, a college or university course is more likely to be a better fit. 
what skills or qualifications might you be missing? If you don't quite meet the entry requirements for your desired course, you may be able to do a top-up course to improve your existing skills. 
how much time do you have? Are you able to dedicate three or more years to completing a degree or do you want to do something that can be done in a year?
what other things does your learning need to fit around? If you need to fit your learning around a job, your family or other commitments, then you may need to consider a course you can do part-time or distance learning that you can do at a time that suits you. 
will you need to be earning alongside? A college or university course will be demanding of your time and you may find it difficult to work alongside it, although most institutions offer bursaries and financial assistance to eligible applicants. Instead, you could consider an apprenticeship or a working pupil position where you'll earn a wage while you're learning. 
what are your plans after your course has finished? If you have a particular career in mind, then you can choose a course that's a bit more specialised. However, if you aren't set on one job, consider doing a more general course, such as a degree in Equine Science or NVQ in horse care. Some jobs allow you to work typical office hours during the week, while others may require you to work longer hours or over the weekends, so think about what you'd be happy to do. 
what will happen to your horse? Some universities and colleges have the facilities for you to take your horse with you – having him on a working livery to help students with their studies is a cost-effective option. Some working pupil placements will allow you to take your horse, too, but you'll probably be expected to care for him outside of working hours. 
when does the course start? While some courses may have several intakes throughout the year, others may only have one window, so you'll have to plan in advance when you start your application. 
Top tip – Some universities will allow you to combine equine courses with other subjects – for example, you could do a joint honours in Equine Science and Business Studies. While this would mean studying topics unrelated to horses, it could give you a wider knowledge base. 
Horses for courses
There is a wealth of potential careers within the equine industry and each requires a different set of skills for you to succeed. Some have multiple pathways to the end goal, while others will have a more fixed progression. Here are just a few examples…
Farrier – you'll need an apprenticeship, which can take up to four years to complete. Apprentices are paid a national apprentice minimum wage (starting at £3.50 an hour from April 2017), and you'll have the chance to learn your skills from experienced practitioners. 
Groom – you might want to consider a work-based qualification such as an NVQ, which you can do through a college, or getting a working pupil position where you can learn on the job. If you decide to become a working pupil, look for a yard with BHS or ABRS approval so you can be assured that you'll receive a high standard of tuition. 
Nutritionist – most employers look for an equine science degree and having a masters would be advantageous. Try to choose modules with a strong focus on nutrition and use nutrition topics where possible in your assignments. 
Equine vet – you'll need to go to vet school, which usually takes six years to complete and takes you right up to level 8. Try to organise work placements with equine practices during your university holidays so you get as much experience as possible. Internships at equine hospitals are available once you've completed your studies. 
Top tip – Not all horsey jobs require an equine qualification. Roles in marketing, PR, journalism, sales, photography and event management are examples that might not, although you may need to study another course to provide you with the relevant skills. 
Your Comments