Managing different personality types with Lucinda Fredericks
Posted in Management
Featured Professional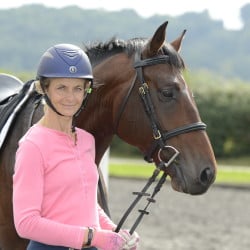 Best known for her partnership with Headley Britannia, Lucinda rides for Australia and has won Burghley, Badminton, and Rolex Kentucky.
In the March issue of Horse&Rider, eventer Lucinda Fredericks explains how to work with two very different horsey personalities – inexperienced horses and schoolmasters.
You can help keep experienced horses happy and sound by developing your routine to suit them physically and mentally. Most of my horses go on the walker in the morning for at least a half hour of good, forward marching. It gets them moving, helps maintain fitness and is a relaxing part of their daily routine. After being ridden, they are bathed in warm water and go on to have a 'sauna' under the heat lamps to soothe their hard-working muscles. Once they are dry, they are dressed for the weather and go out for a few hours in the field.
Turnout can help horses cope with the mental and physical demands of being a high performance athlete. Some sparky horses and young horses might stay out at night, and I'll often turn horses out the night before the competition, bathed, plaited and otherwise ready to go on the lorry. Likewise, I choose the stable the horse lives in carefully depending on their personality – some need to be in the middle of the yard and part of the activity, some prefer a little solace and a quieter box.
My horse-of-a-lifetime, Headley Britannia, 'Brit' would only accept the best stable right in the middle of the yard. I assumed the same would be true of her daughter, seven-year-old Little Britannia 'Millie', However, when she was moved out of her prestigious, front-of-yard stable because we were overstocked this summer, we discovered she was much happier in a quieter box around the back of the stables. Sometimes you find these things out quite by accident!
I feed all the horses my care a complete, molasses-free, fibre-based diet. The slow-release energy of a high-fibre feed allows my horses to think and problem-solve, even when they are at the highest point of fitness. I think this gives us the greatest chance for success at every phase in eventing and the best platform to produce happy athletes.
Your Comments