Featured Professional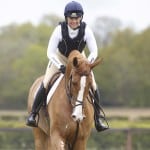 Pippa Funnell is firmly established as one of the world's leading three day event riders.
Jumping a cross-country round with a horse who has a tendency to refuse can be more than a little unnerving. Watch Pippa Funnell's lesson for getting up and over every time!
If you read Pippa Funnell's cross-country training feature, Giving off good vibes, in April Horse&Rider, you'll have met our models Tilly Morgan and her 12-year-old ID x TB gelding, Archie, who won a lesson with Pippa courtesy of Champion. Like many horses can do when stepping up a level, Archie started to refuse fences on the cross-country course…
"It's all about confidence," explains Pippa. "If you're confident and your horse is confident, then it'll happen. So it's important that you don't go any faster or jump any bigger that you want to go. If you're not confident, it's likely your horse won't be either as he'll be picking up the negative vibes from you."
In this video, Pippa gets Tilly and Archie performing some easy exercises over a variety cross-country fences, to try and get the pair to loosen up, relax and get confident across country. Try the exercises for yourself and see if they work for you…
Tip 1: Sit tight
"Never get in front of the movement," stresses Pippa. "It's all about being effective and in balance."
Tip 2: Slow but sure
Pop some small fences from a slow pace – even walk. It might jump you out of the saddle, but this will help you develop a really secure position. "Try not to interfere with your horse's mouth, as he needs his head and neck to balance," advises Pippa.
Tip 3: Stay in the tube
Keeping your horse straight between your leg and hand – 'in the tube' – will help in tricky combination fences with lots of twists and turns. "You need impulsion, but not speed," says Pippa. "Keep your arm soft – just as a subtle guide to keep him straight – and keep him in tube with your leg."
Tip 4: Avoid overriding
Water complexes offer horses a prime opportunity for putting in a stop, which can cause some people to ride their horse forward a little too much. But Pippa advises: "Try not to override it – give your horse time to work out what to do with his feet. Speed is never the solution – impulsion is!"
Tip 5: On the straight and narrow
It's easy to be fazed by skinnies if your horse tends to stop or run out. But Pippa says: "Just imagine that it's a wide fence and you're jumping in the middle of it."
Find more cross-country exercises and advice from Pippa, including diagrams of fence complexes you can try, in April 2011 Horse&Rider Magazine.
Horse&Rider would like to thank Champion, sponsors of Pippa Funnell, for their help with this feature.
Your Comments