Featured Professional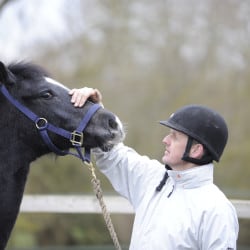 The 'Problem Horse Trainer', Michael Peace specialises in a natural approach to training difficult horses.
"Hacking problems can include anything from spooking or bucking to refusing to leave the yard" says Michael in his latest training feature in June Horse&Rider.
Here Michael helps Bev with her six year old mare Moneke, whose napping has become so bad that she often plants her feet and refuses to go out for a hack at all.
Back to school
"I find it is better to deal with the issues in the confines of the school first" says Michael "because horses generally feel safer in a school." Bev's problem is quickly identified as simply not having control of Moneke's shoulder giving her an escape route. Michael explains that "When a horse naps, he'll fall through his shoulder in an attempt to spin round or rear. If you can put his shoulder back in line, then he will find it more difficult to nap or rear." Michael shows Bev how to bring the shoulders back into line with the hindquarters by explaining "If your horse falls in, take your weight slightly to the outside and lift both hands up slightly and over to the outside. If he falls out, do the opposite."
The big outdoors
Once you have your horse listening to you in the school then you are ready to venture out. "I cannot stress enough the importance of introducing your horse to as many sights and sounds as you can" says Michael, "so if your horse spooks at something, take him up to have a look at it. Make it your long term aim to get him used to everything you can …until he is not fazed by it"
Scroll down to see how Mike applies his Think Equus techniques to stop Moneke from napping and then apply it to your own hacking experiences – it's easy once you know how!
Your Comments