Featured Professional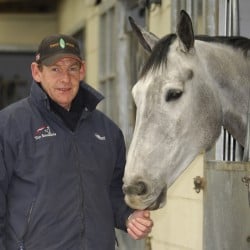 Tim is one of the country's foremost showjumpers and trainers, having represented Great Britain on over 50 occasions. He is a board member of British Showjumping and has served as Chef d'Equipe of the British team.
Part four of our Train with Tim series shows you how to ride a stride building on the sessions where we judge distances and adjust the horse's stride.
Ride the Stride
Set up two caveletti five horse strides (plus half a stride for take off and landing, 22m/72ft) apart. Then jump them in a good, rythmical canter and count how many strides your horse takes. Let Tim explain the rest in this video…
Neutral seat
When jumping a combination it's important to stay balanced throughout. You'll notice that I don't tip my body too far forward or sit up completely. I try to maintain a light seat and stay in 'neutral' all the way down my body, allowing my knees and ankles to act as shock absorbers.

Your Comments