Featured Professional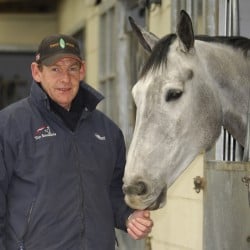 Tim is one of the country's foremost showjumpers and trainers, having represented Great Britain on over 50 occasions. He is a board member of British Showjumping and has served as Chef d'Equipe of the British team.
Flatwork and showjumping go hand-in-hand, and the better schooled your horse is on the flat, the better he can cope with the demands of showjumping.
Utilising an A frame to concentrate your jumping
"Here's an exercise I use with V-poles (or A-Frame) to help a horse use his shoulder in the right way – picking and drawing it back to avoid hitting the poles with his front legs," explains Tim.
Make sure the exit route is wide when you begin this exercise and gradually bring the poles closer together  until they are almost touching.
Stopping and controlling your pace between fences
To break the cycle of rushing and 'running' between fences, the rider must focus the horse's attention; "My garage consists of an open-ended area using two poles as tramlines on the landing side, placed about 12m away from the fence. Jump the fence and then say 'whoa' bringing your horse to a gradual stop in the garage.
"Once your horse has stopped in the garage, ask him forward from walk to canter with a gentle squeeze of the leg, then out over the second fence."
Your Comments