Home
Expert Advice
Article
Tim Stockdale – Chapter 7, Why a horse rushes, training a youngster not to rush and landing on the correct leads
Featured Professional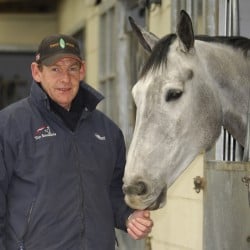 Tim is one of the country's foremost showjumpers and trainers, having represented Great Britain on over 50 occasions. He is a board member of British Showjumping and has served as Chef d'Equipe of the British team.
Whether your horse is a green youngster or an experienced showjumper with naughty habits, clear and consistent training practices are the key to achieving a well-trained horse.
Slow down!
Tim sets up five poles 3.5m apart. "Work on cantering through the five ground poles over a few days, until your horse is relaxed and soft in the contact. Then you can think about making the last pole into an upright."
On the turn
The ability to ride good corners and sharp turns is paramount, especially when jumping in a tight arena or against the clock.
'A' turn – This is used for simple turns, and involves bending the hrose around the inside leg, which helps maintain balance, rhythm and engagement behind.
'B' turn – This is a straighter, tighter turn, and involves using the outside leg and outside rein (as in neck reining) to turn.
Leading the Way
Whenever you change direction after a fence, it's important that your horse lands on the correct leading leg to enable him to make a nice, balanced turn. It effectively means changing leg in mid-air over the jump.
Your Comments