Home
Expert Advice
Tim Stockdale – Chapter 9. Planning your jump off, aiming for an angle, dog-legs and skinny fences.
Featured Professional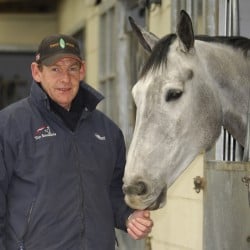 Tim is one of the country's foremost showjumpers and trainers, having represented Great Britain on over 50 occasions. He is a board member of British Showjumping and has served as Chef d'Equipe of the British team.
Now is the time to put all the last 8 lessons together, with a few more thrown-in for good measure!
Aiming for an angle
"Jumping a fence on ana angle is a key way of shaving two or three strides off a course mainly because it sets you up for a much better turn after the jump" explains Tim.
Dog-leg distance
"The art of riding a dog-leg effectively lies in your ability to ride from the centre of one fence to the centre of another on a curve" says Tim.
Straight and narrow
"You must be straight on the approach, aiming at the centre of the fence. Ride into it at a rythmical pace, with a rein contact that's elastic but supportive – and don't drop your contact, or he could run out to the side."
Plan your jump-off
"My philosophy is that while the emphasis  on being quick around the course is obviously iportant, you should only go as fast as you can jump clear, because clear rounds always beat the fastest four faults"
Your Comments