Featured Professional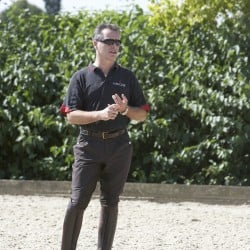 Richard combines top-level dressage and teaching with a tireless dedication to the promotion and improvement of equestrian sport.
Trot poles can help you build a blockbuster medium and extended trot, says Richard Davison
Pole work, used with care, is a great way to persuade a horse to lengthen his stride. However, use poles carefully because you need to ensure you don't overdo things too soon, as this can knock a horse's confidence.
Note
It's crucial to have someone on the ground to help you with pole work.
Use square poles rather than round ones, as they won't roll if your horse stand on one.
Trot poles
Start with three poles set approximately 1.3m (4.5ft) apart, although you will need to adapt the distances to suit your horse.
Ride over the poles several times, on both reins, and once your horse is completely comfortable with the distance, ask your helper to roll them out, just an inch at a time, until your horse has to reach a little to make the next distance.
However, I can't stress enough how important it is to do this gradually and not to overdo the distances.
Build on this exercise by raising one end of the poles onto small blocks, as shown here. This helps the horse to develop more cadence and lift in his trot, so you get a flashy, not flat, medium trot.
Our trainer
Richard Davison has ridden at three Olympic Games. His current top horse is German-bred Hiscox Artemis.
Our rosette symbols highlight expert advice for various levels
---
A yellow rosette indicates advice that's especially useful for novices, or more experienced riders who fall into bad habits!
A blue rosette denotes information ideal for anyone who wants to improve their skills.
A red rosette highlights techniques for more advanced riders to try, and all of us to aspire to!
Your Comments