Featured Professional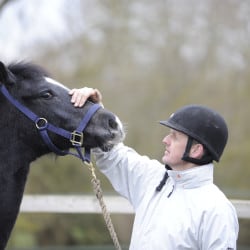 The 'Problem Horse Trainer', Michael Peace specialises in a natural approach to training difficult horses.
Expert Michael Peace demonstrates how to long-line a nervy youngster in order to re-enforce previous lessons learnt and boost his and her owners confidence
Michael Peace works with a young Arabian called Otto who had been backed as 3 year old but has since developed a whole range of problems which led to a loss of confidence under the saddle.
Michael demonstrates how using long-lines can increase the confidence of nervy horses without a risk to yourself and increasing his confidence throughout the session.
"It's funny because people with nervous or highly-strung horses do everything in their power to keep the horse calm, but actually all this does is keep the horse hidden away from new experiences. The only way a horse becomes less scared of something is to do it and learn to accept it, not hide away from it" explains Michael.
In a nutshell
Long-Lining is a great way to start any horse's training – but make sure you know what you are doing or get an expert to help. Remember, even on long-lines, the wrong hands can do a lot of damage to a horse's mouth.
Keep the horse focused on the job by adding some variety to his schooling sessions – turns, circles and transitions for example.
If your horse is unsure about something, give him a big pat to reassure him that everything is okay.
Your Comments