What to look for in your show jumping saddle
Posted in Management
Rob Cullen and John Hartley provide advice and tips on what to look for when buying a new show jumping saddle…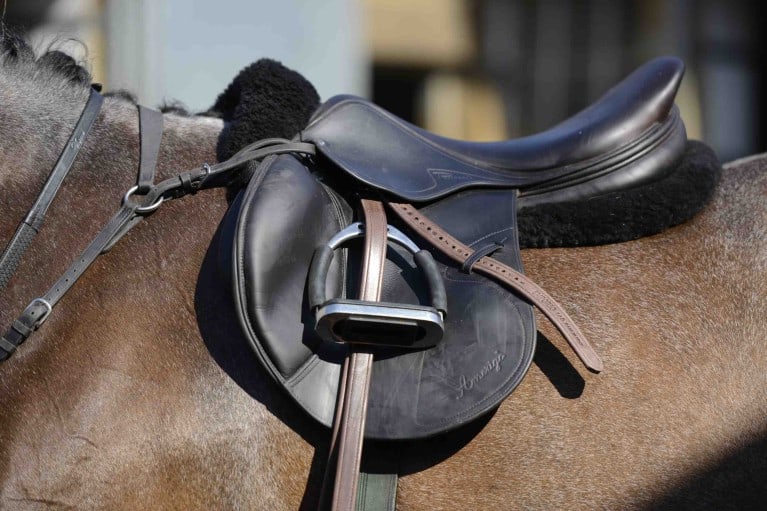 The sport of show jumping requires riders to be athletic and in balance with their horses at all times and making sure you have the right saddle that fits the horse and is comfortable for the rider is key.
Rob explains: "The modern day show jumping saddle has been designed to provide a close contact fit that helps to sit the rider in balance.
"Some saddles are also made using a single/mono flap system that allows the rider to have a closer feel around the horse.
"To get the most out of your horse it is important to really feel him working underneath you and this level of communication is greatly enhanced with a single flap show jumping saddle."
John adds: "The knee and thigh blocks in a show jumping saddle should be designed to support the rider's position, with the forward cut flap helping with the balance.
"As horses grow and develop there may be occasions when the saddle requires adjustment for the perfect fit and this is achievable when the saddle is flocked totally with pure wool.
"When deciding on which saddle to choose make sure you decide on one that is designed to allow maximum performance from the rider as well as the horse."
10 Points to Consider…
1. At all times use an experienced saddle fitter when looking to buy a new saddle.
2. When the saddle is finished make sure the saddle fitter returns to ensure the fit is correct.
3. Look for a saddle made from top quality leather. It will be both comfortable and stylish and help you to perform at your best. Remember cheaper leather can have a tendency to be slippery.
4. A saddle that is designed with features that are interchangeable will provide the height of comfort and freedom for the horse, and support and security for the rider.
5. Choosing to buy a bespoke saddle will help ensure it is fitted by trained experts who understand your horses needs.
6. Compromise should not be an option when deciding on your new show jumping saddle. Ideally the saddle should maximise your partnership with the horse and balance comfort, with style and performance.
7. Great attention must always be paid to the saddle flocking. Correct flocking provides a cushioning effect that helps to reduce trauma.
8. A saddle that is over-stuffed will be hard, will not adapt to the horse's back and may cause pressure sores or sensitivity. It is also important to use pure wool.
9. The forces involved in a big horse taking off, stretching over a fence and landing on the other side are tremendous, so the saddle must sit well and minimise the effect of jarring to the horse's back.
10. It is always worth trying a number of styles of saddles before making your final decision.
For more information telephone 01543 578243 or visit www.blackcountrysaddles.com.
Your Comments