Reins
Keep the connection with a range of reins, rigorously put to the test
Our testers: The up-and-coming showjumping riders from the JB Academy, coached by Johnathan Bowman, kindly tested our reins.
The products
Vespucci hand grip rubber reins
These reins have nearly double the number of leather grips for a precise, steady contact. They're shorter than normal reins to avoid the danger of getting your foot caught up in the excess loop.
"The finish and the grip are top class."
Silver Crown flexible reins
Made from internally-reinforced rubber with martingale stops and stainless steel fittings.
"These are very good quality and have a unique finish with white stitching. They're easy to hold and flexible. They're a premium product at a premium price."
Kincade soft padded reins
Traditionally-styled reins with leather martingale stops.
"These reins are very soft on my hands and I love the style of the martingale stops. The design is great for schooling, but I probably wouldn't compete with them."
John Whitaker red patent rubber reins
English leather with black rubber grip and brass buckles.
"They really stand out against my horse and have been much admired. They're just the right width and thickness for my hand."
JHL pro rubber grip reins
Rubber grip over internal webbing for strength. Pre-oiled leather with martingale stops, and stainless steel buckles and billets.
"They are very flexible in my hands and a bit shorter than my other reins, so great for jumping."
Jeffries traditional laced reins
Made in Britain, these traditional reins are made to stand the test of time.
"These reins are well-made and designed to last."
Hy continental reins
Continental webbed reins with leather grips and billet hook fastening.
"Nice, basic reins at a good price. The leather is slightly stiff when attaching the reins to the bit."
Horze selfoss rubber reins
Soft rubber reins reinforced with nylon, with snap hooks at the ends.
"Very flexible grip and I love the clips on the ends for ease of use. It would be great if they came in different lengths."
Harry Dabbs continental reins
Double-layered English leather ends with hook studs, leather martingale stops and a fine layer of rubber interwoven with the webbing to provide extra grip.
"I love the leather grips as they help me keep a consistent contact on the reins."
GFS insider grip reins
Rubber on the inside of the rein gives discreet grip, ideal for showing.
"They aren't too bulky and provide good grip, even in the rain."
Fouganza Romeo reins
Web and rubber reins with raised, fancy-stitched bit ends. Includes leather martingale stops.
"I like how supple these reins are and the stitching detail on the padded leather bit end. The wing-shaped martingale rein stops are a great feature. The grip is fine with bare hands, but isn't as good with gloves."
Cottage Craft plain reins
Smooth leather reins that are stylish, durable and ideal for showing.
"A good price for a nice pair of reins for showing or quiet hacking. They're smooth, so they don't have a great grip if your horse is strong."
Collegiate rubber reins
Made from European leather with stainless steel fittings.
"Very grippy rubber reins that don't slip through my hands when riding my strong horse."
Caldene supergrip reins
Made from vegetable tanned leather that is eco-friendly, strong and supple.
"Grippy, continental-style reins with rubber woven in, good for dry weather and using with gloves. The rubber isn't as grippy in wet conditions as they are when dry."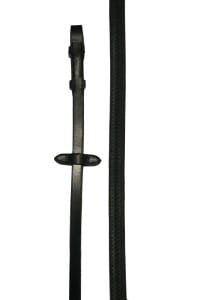 Bridleway Melton rubber reins
Flexible grip with all the benefits of quality, vegetable-dyed leather. Includes leather martingale stops and hook stud billets.
"These are flexible and grippy – even in the rain. I like the martingale stops as my horse uses a running martingale for jumping."
More Tried & Tested Products