Feeding the senior horse this winter
Posted in News
With its dark nights and plummeting temperatures, winter can be a difficult time. As horses grow older, they need extra care and attention to make sure they stay healthy and comfortable through the colder months. 
Feeding fibre
Whether he's stabled or living out, fibre should be the forefront of your horse's diet. There are many options available to you to increase the fibre content of his diet if grass is limited, including hay, haylage, chaff and high-fibre feeds.
Providing your horse with ad-lib fibre will help to maintain a healthy hindgut, which in turn will help him maintain his body temperature in cold weather. The greatest amount of heat is released when microbes in the hindgut digest high-fibre feeds, which will help keep him warm.
As the temperature drops, your horse will need even more fibre to help him keep warm, especially in wet and windy weather. As a general rule, for every 10 degrees below freezing you should increase his hay ration by another 10 percent.
Poor dentition
Impaired chewing ability due to loss of teeth or poor tooth condition is one of the main reasons older horses start to lose weight. Symptoms of dental problems include laboured chewing and quidding, which is where horses will often drop half-chewed food, and loss of appetite.  If you've noticed your veteran has any of these symptoms, it's important to first get your equine dental technician to examine him, then to increase the amount of fibre in his diet.
If your horse struggles to chew hay, or other short fibre there are some fibre replacement products on the market, such as ReadyFibre Mash from Rowen Barbary. It's made out of 100% highly digestible fibre and is ideal to use as a fibre replacer to help maintain a healthy diet. It only takes five minutes to soak into a soft textured mash. It's very palatable for veterans and it can be used as a complete fibre replacer.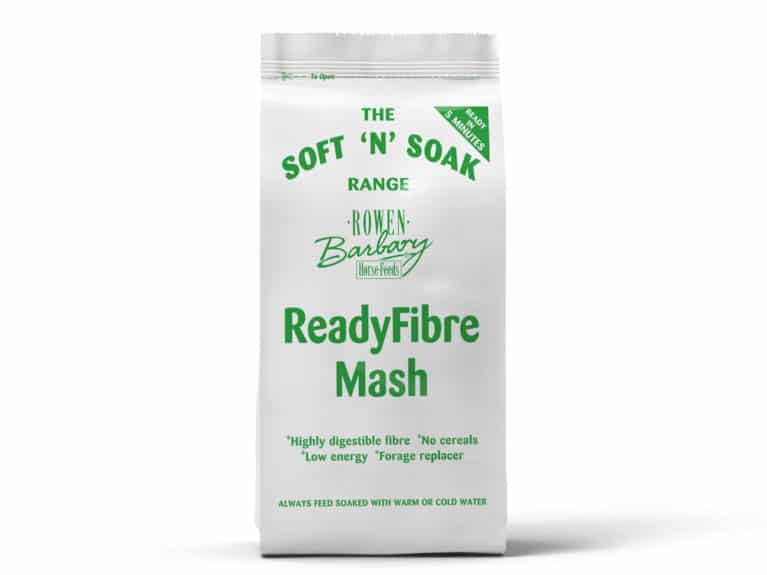 When feeding fibre replacers, split the feed into as many small meals a day as possible – three or four portions given at regular intervals throughout the day will help keep the digestive system healthy.
Weight management
Fibre alone is usually insufficient to meet the energy demands of an older horse to maintain his bodyweight. Supplementing oils or fats into his diet is an excellent way of providing him with the additional calories required for improving and maintaining condition.
Rowen Barbary Senior Support is designed specifically to help improve health and wellness in the older horse. It contains a blend of linseed and soya oil, which helps to provide the extra calories required to maintain his overall condition. Special attention has been given to help support joint health, with an equal ratio of glucosamine and MSM added to help restore joint function and mobility, alongside turmeric with cracked black pepper to aid bio-availability.
Equine metabolic syndrome (EMS)
The dietary management of a veteran with EMS, or with pituitary pars intermedia dysfunction (PPID), should be based on a low-starch and sugar diet that contains less that 12% non-structural carbohydrates on average per feed. This helps control the blood insulin levels and prevent the risk of laminitis developing.
A high-fibre diet with soaked, stalkier that has a lower nutritional value is recommended. Research has found that soaking hay for up to an hour can eliminate 56% of its water-soluble carbohydrates.
Cereal and molasses-free and containing less than 1% sugar, Rowen Barbary Solution Mash has been specifically formulated for horses who need a higher calorie diet for conditioning and controlled weight gain, while still being suitable for those prone to EMS.
Top tips for veterans
six monthly dental checks
regular flu and tetanus vaccinations
light exercise
regular worming and faecal worm egg count (FWEC) programme
adequate shelter and appropriate rugs
annual veterinary examination
For more information on feeding the senior horse please contact Rowen Barbary Horse Feeds on 01948 880598 or visit rowenbarbary.co.uk
Your Comments