Challenging cavaletti exercises with Ingrid Klimke
Posted 18th July 2019
If you're after challenging cavaletti exercises, then look no further. Ingrid Klimke returns for the final part of our series with three exercises to test you and your horse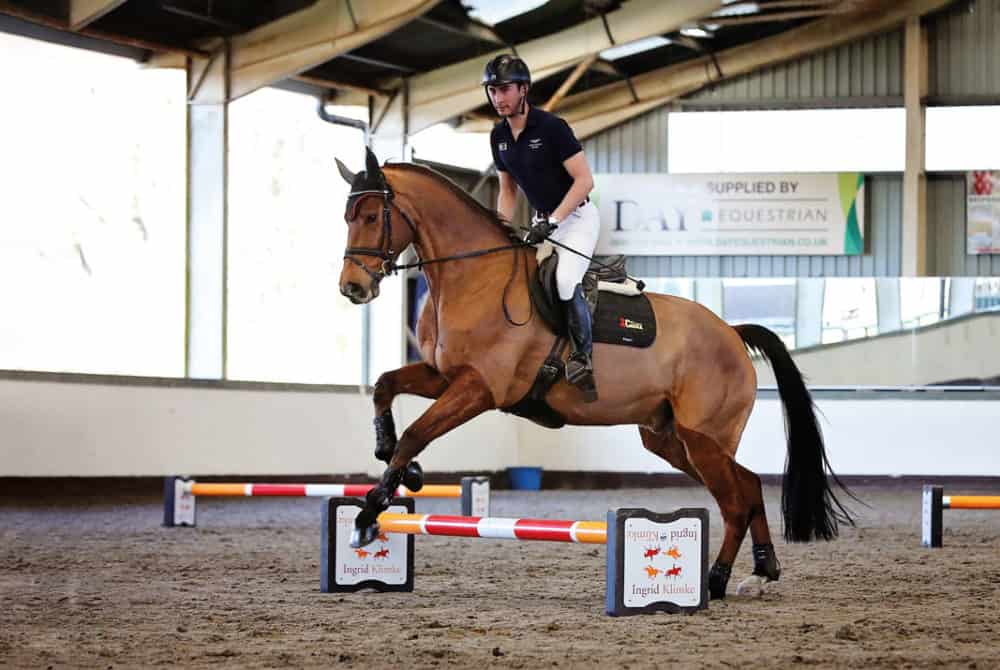 Whether you're riding a jump-off or storming the cross-country course, odds are you're far better prepared than your horse. After all, you've walked it at least once, maybe more, but for him it's all new information – he has far less time to interpret the questions in front of him. This is where your forward planning, and his ability to be quick-thinking and athletic, come into play. These qualities will set you both up for success, no matter what sphere.
The best way to teach your horse to think on his feet is by asking him complex questions at home. So, whether you're a showjumper, an eventer or simply want to challenge your horse with something new, spicing up your repertoire with these cavaletti exercises will get him switched on and reacting rapidly.
Cavaletti exercise: Figure-of-eight
It's a figure-of-eight but not as you know it. Training over poles on a curved line helps establish an even bend and the circles help to maintain your horse's balance, engagement and pace.
Set it up Place four cavaletti in a cross formation at one end of your arena. Use two of the four cavaletti in an L-shape to make a figure-of-eight.
How to do it Ride a figure-of-eight in trot. Maximise the space available by riding as big a shape as possible, remembering to change your bend and diagonal over the mid-point.
When you're ready to step up to canter, after changing your bend over the mid-point, ask for canter over the cavaletti. Continue on your figure-of-eight, but return to trot again before changing bend and asking for canter over the next cavaletti.
When you're sure that your horse understands what's being asked of him, try to maintain your canter throughout the figure-of-eight, asking for a flying change over the cavaletti rather than bringing him back to trot.
Check out Ingrid Klimke's other exercises using cavaletti in September Horse&Rider, on sale 25 July.
Your Comments