WIN a hamper from IV Horse
Ten lucky readers will each win…
a hamper from IV Horse worth over £152
Keep your horse looking spick and span this summer with a hamper from IV Horse that's packed with goodies. It's got you covered with all the products you need to help keep his coat, mane and tail shining and fly-free.
Dermalogic arnica gel, worth £7.95
Dermalogic Coat & Skin conditioner, worth £8.95
On the Hoof sprayable hoof oil, worth £6.95
On the Hoof Shine On Hoof Defence, worth £9.95
On the Hoof Natural hoof grease, worth £11.95
Leatherflex leather balm, worth £11.95
Shampers All Equine shampoo, worth £7.95
Foam & Dry shampoo, worth £7.95
No Sweat Natural body wash, worth £12.95
Ride Out Rider's cleansing hand wipes, worth £6.95
Ride Out Rider's Handy Creme, worth £4.95
Show Glow Equine coat polish, worth £7.95
Show Glow Finishing wipes, worth £9.95
The Fly App Lemune Plus Formula, worth £14.95
The Mane App Original Formula, worth £16.95
Tangle Buster detangler, worth £3.95
You'll also receive hoof-care products such as On the Hoof oil, which is sprayable for speedy application. Take care of your tack and leave it gleaming with Leatherflex leather balm, and look after your own skin, too, with Ride Out Rider's
Handy Creme.
To enter: Answer the question on the competition entry form. Entries must be received by 31 July 2018. No purchase necessary. All items subject to availability.
If you're entering on a mobile or tablet device, please click here
Other competitions which may interest you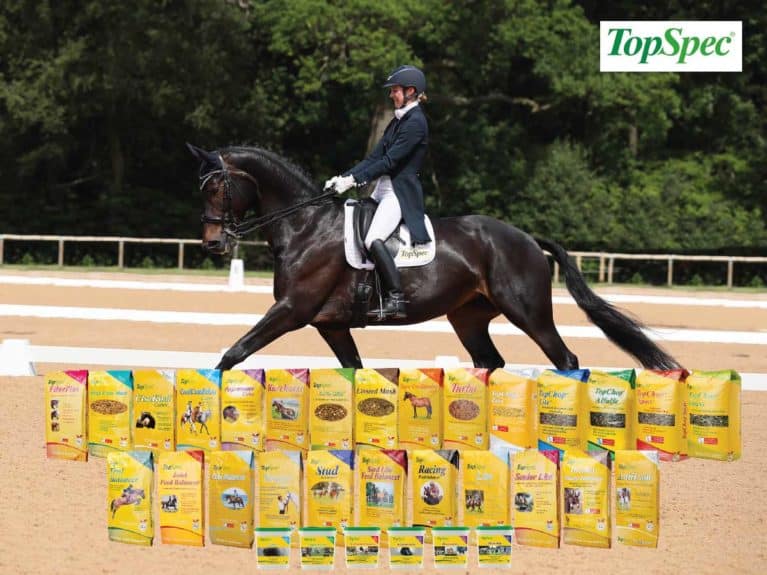 Two lucky readers will each receive £500 worth of TopSpec feed and five lucky runners-up will each receive a bag of TopSpec Comprehensive feed balancer
View Competition
Back for its fifth year, and bigger and better than ever, this incredible, festive horse show is not one to be missed.
View Competition