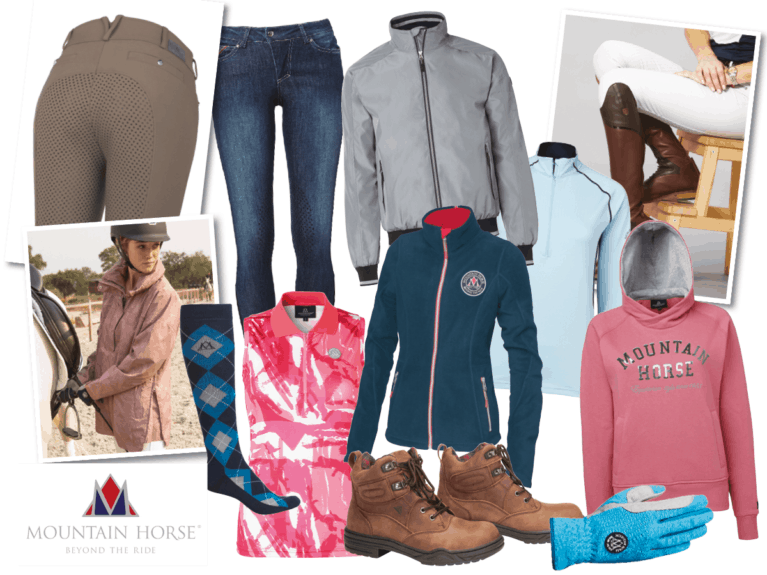 WIN a wardrobe from Mountain Horse
This year, Mountain Horse is celebrating its 30th anniversary by offering one lucky reader the chance to win a gorgeous equestrian wardrobe.
The Air anorak's available in navy or vintage pink, the Move Tech top in white or light aqua blue, and the Breeze Tech singlet top in aqua blue or pink. The Accent hoodie comes in cloudy pink, while the Ease tank top is available in grey or cobalt blue, the Adele fleece in red or blue and the Melanie Tech breeches in grey or navy. The Bella denim breeches come in denim blue, while the Evelyn breeches are available in bronze, navy or light beige, the Happy gloves in blue or pink and
the Lana socks in navy or dark red and navy.
All clothing is available in sizes XS–XXL, except the Team Light jacket, which comes in XS–XXXL, and the breeches, which come in 34–46. All footwear is available in 36–42, and the Sovereign High Rider boots also come in a variety of length and width options.
one lucky reader will receive…
• Sovereign High Rider long riding boots, worth £299
• Mountain High Rider Legacy short riding boots, worth £275
• Spring River clogs, worth £119
• Air anorak, worth £129
• Team Light jacket, worth £85
• Move Tech top, worth £50
• Breeze Tech singlet top, worth £45
• Accent hoodie, worth £55
• Ease tank top, worth £29
• Adele fleece, worth £55
• Melanie Tech full-seat breeches, worth £129
• Bella denim breeches, worth £99
• Evelyn full-seat breeches, worth £119
• Happy gloves, worth £22
• Lana socks, worth £11
For more information, visit mountainhorse.se
To enter: Answer the question on the competition entry form. Entries must be received by 31 August 2018. No purchase necessary.
If you're entering on a mobile or tablet device, please click here
Other competitions which may interest you
One lucky winner will win £100 to spend on VioVet!
View Competition
This month we have £1,306 worth of prizes to be won! If you're entering on a mobile, or tablet device ...
View Competition