WIN with May Horse&Rider
This month we have £1,300 worth of prizes to be won! If you're entering on a mobile, or tablet device please click here
Terms and privacy policy
We will only use your personal details for the purposes of administering prizes and will not add them to a database unless you request to receive our emails. Winners' details will be passed on to the company who is supplying the prizes for this purpose only.
For all Horse&Rider competition terms and conditions, and our cookies and privacy policy, please visit here
The Prizes
Mollichaff Showshine
Nine lucky readers will each receive three bags of Mollichaff ShowShine, worth £8 each. Made from high-quality, dust-extracted oat straw, this fibre feed is cherry-flavoured, with a high oil content to help promote ultimate show condition. For more information, visit www.horsehage.co.uk
Blenheim Horse Trials VIP season passes
One lucky reader will receive a pair of VIP season passes to SsangYong Blenheim Palace Horse Trials, worth £210. As well as admission to the Marlborough Pavilion, you'll enjoy world-class eventing and shop 'til you drop from 19–22 September in the stunning grounds of Blenheim Palace. For more information, visit blenheimhorse.co.uk
WeatherBeeta cross-country boots
Five lucky readers will each receive a pair of cross-country front boots from WeatherBeeta, worth £46.99. They're anatomically shaped, breathable, mould to the fetlock, and feature a tough, durable strike pad to help protect the tendon. For more information, visit weatherbeeta.co.uk
H&R Show Time hoodie
Six lucky readers will each receive a Show Time hoodie from the Horse&Rider shop, worth £32.99. This gorgeous navy hoodie has a white horse and rider silhouette with pink glitter details. It features the slogans Show Time on the front and Kick On on the reverse. For more information, visit horseandrideruk.com/shop
Castle Horse Feeds Smart Zero feeds
Three lucky readers will each receive six bags of Castle Horse Feeds' Smart Zero feed, worth from £11.89 each. Formulated with low sugar and starch, they're molasses and whole cereal-free while providing optimum energy and micronutrients. For more information, visit castlehorsefeeds.com
Horslyx prize bundle
Lickety split Two lucky readers will each receive a Horslyx prize bundle, worth £113.75. It includes a 5kg Pro Digest Balancer lick, worth £16.75, a holder, worth £38, two 650g Mini Horslyx, worth £4.50 each, plus a fuchsia pink saddlecloth and polo shirt, worth £30 and £20. For more information, visit horslyx.com
Other competitions which may interest you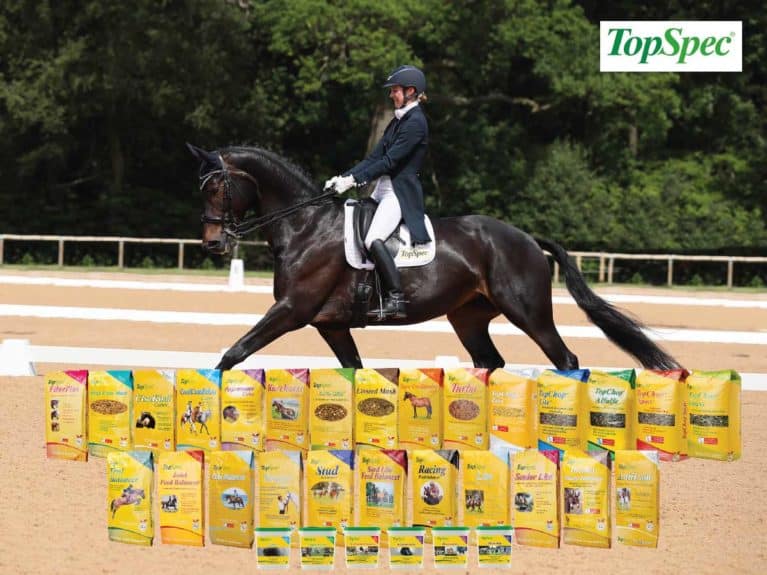 Two lucky readers will each receive £500 worth of TopSpec feed and five lucky runners-up will each receive a bag of TopSpec Comprehensive feed balancer
View Competition
Back for its fifth year, and bigger and better than ever, this incredible, festive horse show is not one to be missed.
View Competition