Whether you're a beginner, a returner, an established rider seeking new skills or an experienced competitor, there's someone at Horse&Rider who's rooting for you.
Louise Kittle
Editor
Joined Horse & Rider in 2014 Started riding age 7
After just 18 months as editor of Horse&Rider, Louise was awarded the title of 'Editor of the Year' in 2015. With many years of horsey experience and lots of horsey qualifications (Louise is a qualified BHS IntSM), she's perfectly positioned to steer the H&R ship and crack the whip. Louise is always first to get involved in any horsey office discussions and debates (and as you can imagine with so many horsey staff there are a lot!) and she's often found on the phone to celebrity riders planning exciting features and photoshoots. Louise owns Ted, a six-year-old Irish gelding. She tells herself he's small, but at 16.1(and-a-half), his great figure has landed him a few modeling positions in Horse&Rider – a perk of the tough job as editor's horse! Together they hope to event – well, Louise has her plans, while Ted is currently more concerned with the whereabouts of his next meal.
Showreel
Lucy Turner
Deputy Editor
Joined Horse & Rider in 2006 Started riding age 12
Lucy is a long-term resident at Horse&Rider HQ. Now in her role as Assistant Editor, Lucy enjoys nothing more than writing training and vet features for you to get your teeth into. She is also the chief of checking all spelling and grammar in Horse&Rider. After leaving school, Lucy set out to complete her BHS stages 1, 2 and 3, and PTT, which set her up perfectly for a career with horses and landed her a dream job of working for eventing legend Pippa Funnell! Lucy then worked as an equine vet nurse, which is where we suspect she developed her love for all things with a hint of gore. Alongside permanently pampering her Jack Russell, Lucky, Lucy is currently riding Charlie, a 16.2hh Thoroughbred-cross, who treats the feed room like it's a self-service buffet!
Showreel
Rachel Dyke
Junior Staff Writer
Joined Horse & Rider in 2016 Started riding age 5
Born and raised in the Essex countryside, Rachel got her first pony, Willow, for her sixth birthday. It soon turned into a family affair, when a horse, confusingly called Rabbit, also joined the family for her previously non-horsey mum. After achieving a joint honours degree in English Literature and Creative Writing at Bath Spa University (and writing a pony novel for her dissertation!), Rachel completed a Post-graduate Diploma in Applied Equine Science at Writtle College and worked for Dengie for two years, before finally getting the longed-for editorial job at Horse&Rider. A now elderly Rabbit is still part of the family, along with three-year-old Haflinger Amalie, who Rachel has recently backed herself after owning her for a year. When Rachel isn't detangling Amalie's Barbie-blonde tresses, they're out exploring new hacking routes.
Showreel
Jessica Lewis
Senior Editorial Assistant
Joined Horse & Rider in 2016 Started riding age 3
Magazine assistant Jessica has been riding since she was just three. An avid reader and Dick Francis fan, Jessica studied English Literature at university, which is a good job really when you're helping to produce a magazine – every page in H&R is read at least six times between the team before it's printed! Jessica's horsey highlight came at the age of 13 when she competed in mounted games at the Pony Club championships. She went on to gain her Pony Club AH test and is still heavily-involved with coaching her local PC mounted games team. She now owns a 15-year-old chestnut mare, Twankey. At 16.2, she's a touch on the tall side for mounted games practice, although she probably wouldn't say no if she got the chance!
Showreel
Sarah Garland
Art Editor
Joined Horse & Rider in 2014
Sarah is the lead mare when it comes to anything art-and-designy at Horse&Rider. In addition to creating interesting designs for all the pages and tweaking them to perfection, Sarah puts together all the beautiful H&R covers giving us so many to choose from for each issue. In the summer, Sarah is always the first to volunteer to go on a photoshoot, especially when we go in search of stunning new cover shots (whether it's because she likes spending the day with all the lovely horses or because she just worships the sun, we couldn't say). She also has a hard time keeping on top of the pesky editorial team, who occasionally like to think they can extend their skills to design, but often end up being more hindrance than help!
Adam Witt
Designer
Joined Horse & Rider in 2013
Before starting at Horse&Rider, Adam didn't know all that much about horses, but that's changed since he joined the team of extreme equine enthusiasts. The turning point was probably when he had to reproduce hundreds of complicated equine anatomy drawings for all the veterinary features. Want to know the internal structure of a hoof? Adam's your guy, and he can even tell you about laminitis! Listening to how much everyone in the office spends on their horses, Adam spends his spare time praying that his daughter doesn't get hooked on ponies, not just yet anyway!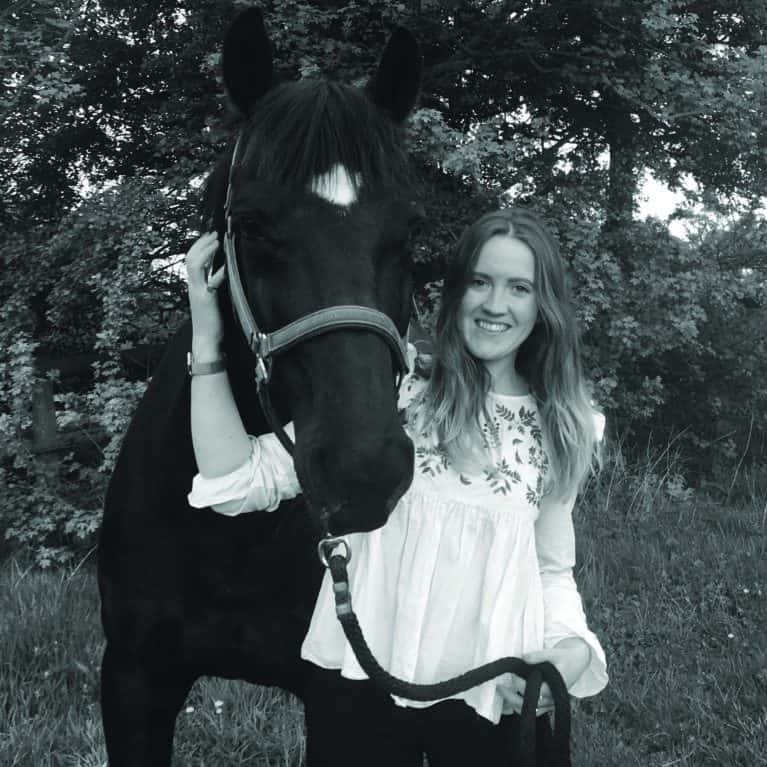 Sophie Rigby
Assistant Designer
Joined Horse & Rider in 2013 Started riding age 1
With very non-horsey parents, Sophie's passion for horses was a challenge to pursue! It all started with a walk around the local common on a family friend's pony, and since then Sophie has gone on to train an RDA pony, backed two four-year-olds and now trains and competes primarily in dressage on her loan horse, Blackie. Sophie juggles working for Horse&Rider in a busy design team, alongside her own equine portrait business. With a childhood dream of buying her own horse and keeping it in her back garden, there's lots of work to be done!
Showreel
Andrea Moffatt
Deputy Managing Director
Joined Horse & Rider in 1991 Started riding age 7
Andrea began riding aged seven and four years later, after a lot of pestering, finally persuaded her parents to buy her a pony of her own, which she spent a lot of time falling off. After three horse-less years at university studying English, Andrea got back into riding by loaning a horse – not the most practical option while working and living in London! However, she joined DJ Murphy two years later in 1991, which allowed her to move to a more rural location and hasn't had a horse-less moment since. Andrea has gone on to compete at PSG with her warmblood Kinda Magic, and also owns a warmblood stallion called Spirit. As Deputy Managing Director of DJ Murphy, she juggles advertising sales, new commercial initiatives and the day-to-day running of the business with riding and competing in dressage.
Showreel
Freda Jackson
Products & Production
Joined Horse & Rider in 2014 Started riding age 1
Freda is lucky enough to get the first look at all the products that get sent in to Horse&Rider because she co-ordinates our Tried&Tested and Buyer's Guide features. Sometimes you can hardly see her at her desk due to the mountains of products that have come in to be photographed. She also co-ordinates the production of all the adverts in Horse&Rider and even has a hand in designing some of them. It's her job to make sure all the adverts are in on time and press the final 'button of doom' which sends Horse&Rider to the printers! Freda owns Larry, a 15.2 Connemara x Thoroughbred. Together they like to do a bit of everything, but Larry doesn't let Freda forget that his favourite thing is to practise going sideways at great speeds!
Showreel
Zoe Cannon
Publisher
Joined Horse & Rider in 2001 Started riding age 1
Zoe started riding early – plonked in a basket saddle at just 10 days old. She had a very horsey childhood and took part in all Pony Club activities, gaining her B test and competing in dressage, showjumping and eventing with her chestnut Arab mare (sounds like a tricky combination!), Monique. Now Zoe juggles life as a working mum with riding Dolly, the fantastic been-there-done-that Irish Sport Horse she shares. As Publisher of Horse&Rider, Zoe oversees the magazine and focuses on its distribution, making sure it gets from the office to you.
Showreel
Gemma O'Neil
Marketing Manager
Joined Horse & Rider in 2014 Started riding age 9
Gemma fell in love with the world of horses aged nine and has been hooked ever since! She's owned her traditional cob, Dollar, for eight years and he even attended her wedding in July 2014! Gemma also helps exercise a friend's horses and her regular mount is Snappy, a fantastic chestnut NF x TB mare, who she has great fun hacking, schooling and jumping at home. Gemma heads up the marketing department at Horse&Rider, working across many areas from subscriptions and advertising campaigns, through to social media and digital initiatives.
Showreel
Ali Hill
Marketing Coordinator
Joined Horse & Rider in 1999 Started riding age 8
Ali's passion for horses started aged eight with a bareback lead ride on a retired horse called Rustler. After college, with her heart set on working with horses, Ali returned to the school where she originally learnt to ride and thoroughly indulged herself in the horsey life, before landing a job at Hermes managing events. During this time, Ali took a sabbatical to train for her BHS AI and eventually moved out of London and back to Surrey. She now co-ordinates the attendance of Horse&Rider at all of the major equestrian events and owns two dressage horses Walnut and Amos, as well as her retired horses Hudson and Teddy. If you see Horse&Rider at an event, go and say hi!
Showreel
Hollie Bladen
Marketing Assistant
Joined Horse & Rider in 2016 Started riding age 1
Born and raised in the New Forest, Hollie was put on a pony before she could walk and it wasn't long before her 14.2 New Forest pony, Solo, joined the horse-loving family. Hollie competed up to county-level showing and insisted on entering Working Hunter classes because really she loved to jump! Now she owns a 16.2 Thoroughbred, Ozzie, who she plans to showjump (if she can convince him that it's more fun than galloping across the forest!). Hollie lived in Canada for two years and worked in radio broadcasting before landing her dream job as H&R's Marketing Assistant. This is one of the most sought-after jobs on the team – Hollie spends her days manning H&R's social media channels, filming celeb riders on photoshoots in the sun, and making adverts for Horse & Country TV. She insists that it's not all glamour, but we don't believe her!
Showreel
Samantha Backstrom
Business Development Manager
Joined Horse & Rider in 2014 Started riding age 1
Sammy was bitten by the riding bug at a very young age, and soon had her sights firmly set on the British showjumping squads. In her time on ponies, Sammy won two team golds and an individual silver at the European Championships! She broke many pony records and became the youngest rider to jump a World Cup just after she turned 18. As Business Development Manager, Sammy heads up the advertising team, and advises her clients how they can best deliver their advertising to you.
Showreel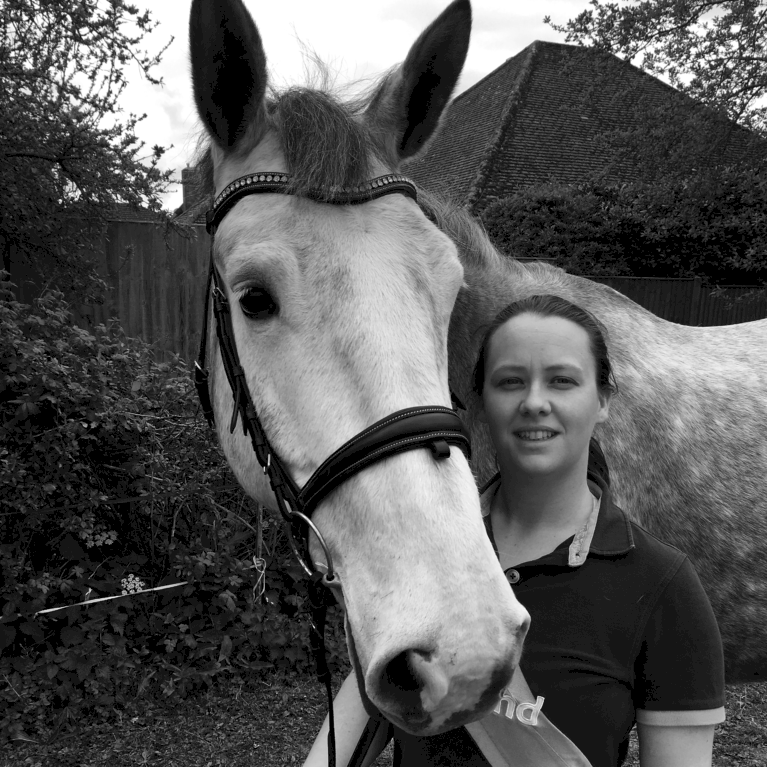 Franchesca Slack
Sales Executive
Joined Horse & Rider in 2016 Started riding age 1
...
Showreel
Lauren Brown
Sales Executive
Joined Horse & Rider in 2016 Started riding age 1
...
Showreel