Whether you're a beginner, a returner, an established rider seeking new skills or an experienced competitor, there's someone at Horse&Rider who's rooting for you.
Rebecca Philpot
Editor
Joined Horse & Rider in 2018 Started riding age 8
Not born into the horsiest family, Rebecca didn't start riding until she was eight years old. Keen to make up for lack of time, she spent all of her spare time at the local riding school until, five years later, she was bought her first horse, Mason. The perfect all-rounder, together they competed in a little bit of everything! Fast-forward to now, Rebecca joined Horse&Rider following a few years working on other horsey publications. She owns Tango, a 15.2hh ex-polo pony who was bought to event – however Tango had other ideas and is now enjoying a more relaxed pace of life.
Showreel
Louise Kittle
Content Editor
Joined Horse & Rider in 2014 Started riding age 7
After just 18 months as editor of Horse&Rider, Louise was awarded the title of 'Editor of the Year' in 2015. With many years of horsey experience and lots of horsey qualifications (Louise is a qualified BHS IntSM), she's perfectly positioned to steer Horse&Rider content. Louise is always first to get involved in any horsey office discussions and debates (and as you can imagine with so many horsey staff there are a lot!) and she's often found on the phone to celebrity riders planning exciting features and photoshoots.
Showreel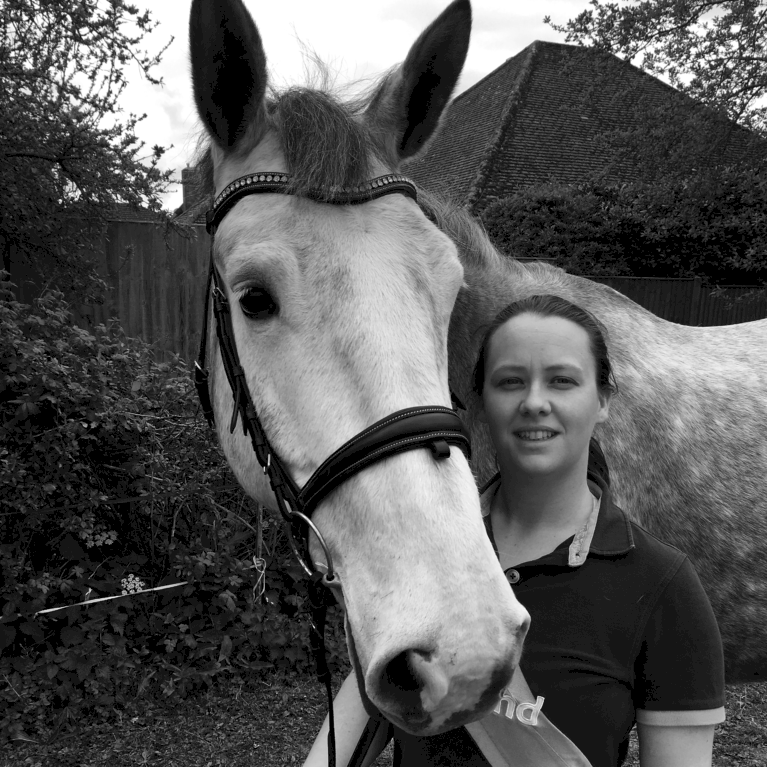 Franchesca Slack
Production Editor
Joined Horse & Rider in 2016 Started riding age 1
Fran's been riding all her life and was lucky enough to grow up on her mum's livery yard, which meant she could go out and see her pony in her pyjamas! She was a member of Pony Club and, after leaving school, went on to study at Sparsholt College, where she completed a national diploma in equine management and BSc (Hons) degree in Equine Studies. While there she also competed on the inter-college riding team. Fran worked as a groom, and in retail and equestrian wholesale before getting the job as a Sales Executive at Horse&Rider. She owns Sekonda, a 17hh Irish Draught, who she enjoys dressage with. They're also thinking about having a go at showing, if Fran can keep Sekonda clean for long enough – he is grey after all! She also shares two Shires, Sammy and Roxy, with her partner and uses them for draught work, riding and driving.
Showreel
Sarah Garland
Head of Art and Design
Joined Horse & Rider in 2014
Sarah is the lead mare when it comes to anything art-and-designy at Horse&Rider. In addition to creating interesting designs for all the pages and tweaking them to perfection, Sarah puts together all the beautiful H&R covers giving us so many to choose from for each issue. In the summer, Sarah is always the first to volunteer to go on a photoshoot, especially when we go in search of stunning new cover shots (whether it's because she likes spending the day with all the lovely horses or because she just worships the sun, we couldn't say). She also has a hard time keeping on top of the pesky editorial team, who occasionally like to think they can extend their skills to design, but often end up being more hindrance than help!
Adam Witt
Senior Designer
Joined Horse & Rider in 2013
Before starting at Horse&Rider, Adam didn't know all that much about horses, but that's changed since he joined the team of extreme equine enthusiasts. The turning point was probably when he had to reproduce hundreds of complicated equine anatomy drawings for all the veterinary features. Want to know the internal structure of a hoof? Adam's your guy, and he can even tell you about laminitis! Listening to how much everyone in the office spends on their horses, Adam spends his spare time praying that his daughter doesn't get hooked on ponies, not just yet anyway!
Zoe Cannon
Managing Director
Joined Horse & Rider in 2001 Started riding age 1
Zoe started riding early – plonked in a basket saddle at just 10 days old. She had a very horsey childhood and took part in all Pony Club activities, gaining her B test and competing in dressage, showjumping and eventing with her chestnut Arab mare (sounds like a tricky combination!), Monique. Now Zoe juggles life as a working mum with riding Valdes, a fantastic Spanish PRE that she shares. As Publisher of Horse&Rider, Zoe oversees the magazine and focuses on its distribution, making sure it gets from the office to you.
Showreel
Ali Hill
Marketing Co-ordinator
Joined Horse & Rider in 1999 Started riding age 8
Ali's passion for horses started aged eight with a bareback lead ride on a retired horse called Rustler. After college, with her heart set on working with horses, Ali returned to the school where she originally learnt to ride and thoroughly indulged herself in the horsey life, before landing a job at Hermes managing events. During this time, Ali took a sabbatical to train for her BHS AI and eventually moved out of London and back to Surrey. She now co-ordinates the attendance of Horse&Rider at all of the major equestrian events and owns two dressage horses Walnut and Amos, as well as her retired horses Hudson and Teddy. If you see Horse&Rider at an event, go and say hi!
Showreel
Lianne Tadd
Digital Marketing Manager
Joined Horse & Rider in 2018 Started riding age 7
Despite being born to non-horsey parents, Lianne caught the pony bug while visiting relatives. Her parents eventually gave into her incessant pleas for lessons and she soon became a firm fixture at her local riding school. Fast-forward a few years and she's managed to make her passion pay for itself thanks to a job in the marketing department at Horse&Rider mag. Her current horse is a lovely – albeit rather grumpy! – TB called Tommy, who she regularly takes to Riding Club clinics, and competes in dressage and showing classes.
Showreel
Abi Cannon
Commercial Director
Joined Horse & Rider in 2019 Started riding age 1
Abi had her first pony ride when she was just two, and promptly threw a tantrum when it was time to get off – starting as she meant to go on! Not long after, Jason (a 10.2 Welsh x Shetland) arrived on Christmas morning. As the years passed, Abi continued riding and enjoyed passing on her ponies to her sister as she grew out of them (H&R's Publishing Director, Zoe). After studying HND Business and Finance with Stud and Stable Management, Abi worked on tour with Monty Roberts and Kelly Marks – cool, huh?! In 1999, Abi joined Horse&Rider and apart from a two and a half year break has been here ever since. Now in her role of Commercial Director, leads the sales team and organises all of H&R's celebrity rider demos. Outside of work, Abi supports her daughter, Jess, and gorgeous PRE Valdes who she shares with Aunt Zoe doing BD and BRC dressage.
Showreel
Evie Edgar
Account Manager
Joined Horse & Rider in 2018 Started riding age 1
Born with a horsey-mad mum, Evie has been thrown on (and off) young horses for as long as she can remember. With a passion for showjumping, she's groomed for riders both nationally and internationally, riding and competing her own horses where time allowed. Lucky enough to live at home on a farm, she (and her still-horse-mad mum) have eight horses, with two more on the way in the spring. Since starting at H&R, Evie has had more time to focus on her current project – six-year-old Ronnie. As he's only 148cm, she's having to change direction to eventing this year, with the hopeful outcome of him being FEI potential – that is, once he's kicked his habit of throwing in 180 degree turns to spice up schooling sessions!
Showreel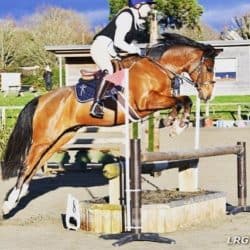 Nicky Moffatt
Staff Writer
Joined Horse & Rider in 2020 Started riding age 8
Nicky started riding when she was eight years old on a cheeky Shetland pony called Rufus. Having always been competitive, her early riding career involved mounted games, going on to win the MGA World Championships in 1989 as part of Team GB. Her focus then turned to dressage after buying Lucinda, a Danish Warmblood mare and together they competed up to medium level, qualifying for the British Dressage Winter Championships in 2002. Nowadays, she owns a 21-year-old, 15.2hh Andalusian stallion called Anthony with whom she's competed up to Prix St Georges level. Due to his age, Nicky now competes him at the lower levels as well as enjoying hacks around the Wiltshire countryside.
Showreel
Emily Weeks
Junior Marketing Assistant
Joined Horse & Rider in 2020 Started riding age 1
Emily has been riding since before she could walk – her mum plonked her on an event horse when she was just six weeks old! With Mum as a mentor and Dad as chief supporter, Emily has been an active member of Riding Club and Pony Club since the age of three, with lots of fun-filled days, competitions, and championships. She studied sport psychology at university and in between studying competed for the university's equestrian team, which involved riding a wide variety of horses. Now, she is following her passion for horses as Junior Marketing Assistant while having fun competing in showjumping and dressage in her spare time.
Showreel