What's inside this issue?
Ready to take your jump training to the next level? Jay shares two…
In the final part of this series, Tania Grantham presents the ultimate layout…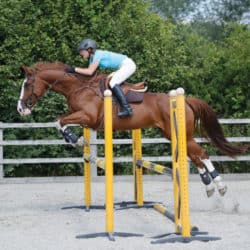 In this video, dressage rider Charlie Hutton provides advice ... Watch Video
Check out the next exercise from our series with Chris Burto ... Watch Video
Mary King helps you improve your flatwork, with the next vid ... Watch Video
We'd all prefer to avoid wet, muddy days at the yard but when you live in the UK, that isn't always an option. So, waterproof jackets are mandatory when it comes to an outdoor hobby. Our selection, worn around the clock by our team of testers, is made up of lightweight garments perfect for layering if you feel the chill, or to pair with a thin base on milder days. See how they fared and find your perfect coat here.