Featured Professional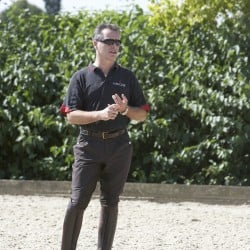 Richard combines top-level dressage and teaching with a tireless dedication to the promotion and improvement of equestrian sport.
Extended canter can help you build a great medium and extended trot, says Richard Davison
The trot is a two-time pace where the horse moves his legs in diagonal pairs, plus there's a moment of suspension when all four legs are off the ground.
Ideally – and essentially at the higher levels – the horse should work in good, uphill balance with his hindlegs stepping well under his body. He should be supple through his topline and seeking a rein contact.
If your horse's trot doesn't feel up to scratch, don't panic. You can cross-train to improve his trot with extended canter.
Extended canter
Riding extended canter stretches the muscles in the hindlimb, therefore making them stronger and making the horse more able to stay light on his forehand.
This means that when you make any upward transitions, your horse is more likely to push off his hindleg, which is what you want him to do in the medium trot. Ride short bursts of extended canter at a time.
Our trainer
Richard Davison has ridden at three Olympic Games. His current top horse is German-bred Hiscox Artemis.
Our rosette symbols highlight expert advice for various levels
---

A yellow rosette indicates advice that's especially useful for novices, or more experienced riders who fall into bad habits!
A blue rosette denotes information ideal for anyone who wants to improve their skills.
A red rosette highlights techniques for more advanced riders to try, and all of us to aspire to!
Your Comments