Medium and extended trot both have to be mastered if you want to go up the levels in dressage. And it's easier than you think, says Richard Davison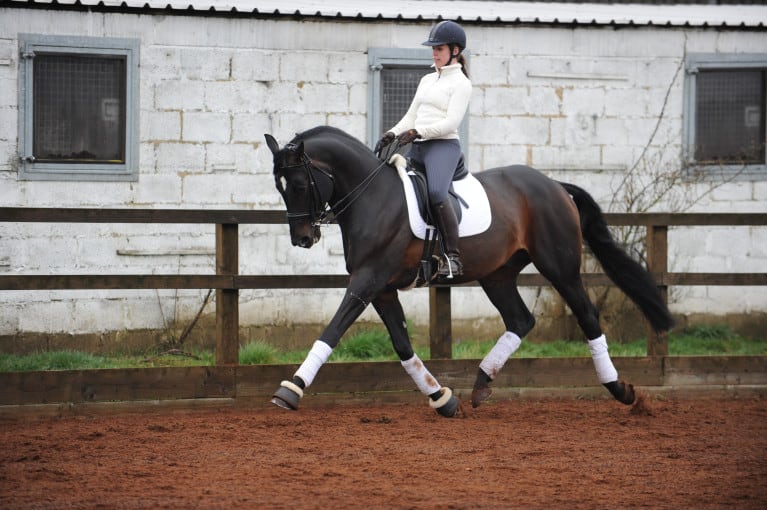 Some horses can naturally lengthen their stride, so if yours is one of them, then when you're preparing to ride your first Novice test (where medium trot is required for the first time), you shouldn't have much trouble.
Others may need a bit more help, but you should find that most horses will happily oblige once they understand what you're asking them to do.
But before you start to teach your horse how to lengthen his trot stride, here's a reminder of what the trot is and how the horse should move in trot.
The trot: defined
The trot is a two-time pace where the horse moves his legs in diagonal pairs, plus there's a moment of suspension when all four legs are off the ground.
Ideally – and essentially at the higher levels – the horse should work in good, uphill balance with his hindlegs stepping well under his body. He should be supple through his topline and seeking a rein contact.
If your horse's trot doesn't feel up to scratch, don't panic. Here are some common trot problems we encounter, with some simple solutions, too. I find they work well for my horses, so give them a go.
Help – my horse falls onto the forehand!
Any young or novice horse will have a tendency to work on the forehand until he has developed sufficiently to be able to take more weight back on his hindlegs and, in doing so, lighten his forehand.
Making frequent half-halts is the simplest way to lighten the forehand, and in order to prepare for the half-halts, you need to perfect the walk-to-trot transitions and trot-to-walk transitions.
Time this until you can show trot, one stride of walk and trot again, with the horse staying supple and round over his topline. And in the upward transitions, the horse must be quick to respond to a light leg aid.
My horse feels really stiff through his body
Include plenty of stretching in your horse's warm-up routine and don't ever rush your warm-up. Circles, serpentines and simple lateral work all help with suppleness.
Remember, it's not only the horse that needs to be supple.
We also have to work on our own flexibility. Our hips, back and pelvis must be able to absorb the extra movement created by a good medium trot.
I can't keep my horse in a rhythm
This is a common problem, particularly with young or untrained horses, although some horses are fortunate to be born with a good, natural rhythm.
If your horse tries to rush out of his rhythm, use lots of half-halts to rebalance him. The skill here is to deliver your half-halt in the upward phase of the trot, ie as the horse's front leg is leaving the ground to move forwards. And don't let your horse slow down in his rhythm, either. Keep a good level of energy.
Our trainer
Richard Davison has ridden at three Olympic Games. His current top horse is German-bred Hiscox Artemis.
Our rosette symols highlight expert riding advice of various levels
---

A yellow rosette indicates advice that's especially useful for novices, or more experienced riders who fall into bad habits!
A blue rosette denotes information ideal for anyone who wants to improve their skills.
A red rosette highlights techniques for more advanced riders to try, and all of us to aspire to!
Your Comments