Cooling rugs
We've put these rugs through their paces, paying close attention to their fit, and the quality of the materials and fittings. Helping you find the perfect cooler.
The products
Elico Brighton fleece
Colours: Yellow or orange
Sizes: 5–7ft
Soft fleece with double buckle chest fastenings and a reflective horse pattern on the black binding.
"It was true to size and fitted my horse well. I loved that it's such a soft fleece material so it didn't rub anywhere, and it was really warm and cosy. The fastenings are good and kept the rug from slipping. It's also washed well and the material hasn't bobbled. For the price I think it's a good value, good-quality fleece. I loved the bright colour as it made such a nice change from all the navy rugs my horse has, but I can see it wouldn't be to everyone's taste."
Fouganza full neck drying rug
Sizes: S–L
Made from material that absorbs up to four times its own weight in water. Great for using after a bath or as a refreshing towel in very hot weather.
"I was amazed at how well this rug worked at drying off my horse after a bath – it's super-absorbent and dried him quickly. It has a good depth to the sides and the large size fitted him well – he usually takes a 6ft 9in rug. It's quite generous around the chest, but it sat well and didn't slip. Perhaps the addition of a surcingle strap would be useful to hold the material closer underneath and help dry the belly area, too."
HKM cooler
Colours: Aqua/sky blue/wool white, lila/old rose/wool white or dark magenta/navy/wool white
Sizes: 5ft 3in – 7ft 3in
Breathable micro fleece, with adjustable and removable cross surcingles and a tail strap.
"It was a good fit for my slim Thoroughbred, who struggles with fit in the shoulder and chest area. It didn't slip back or cause any rubs, and it looked smart on. It was also a great rug for travelling, because it kept his temperature at a comfortable, regulated level and quickly absorbed any moisture away from his body.  It needed regular washing, but for the price it's a great, versatile rug."
Horze Avalanche Pro fleece
Colours: Black or dark blue
Sizes: 115–165cm
Quick-drying, anti-pilling fleece with cross surcingles and double front closures.
"It was a good fit and true to size. It's a lovely, thick fleece, so was great on cold days, and kept my horse warm and comfortable after exercise. The straps were secure and stopped the rug from slipping. It looked very smart, so I used it at shows as well as after exercise and for travelling on very cold days. Because it's a thick fleece, I would only really use it in the winter."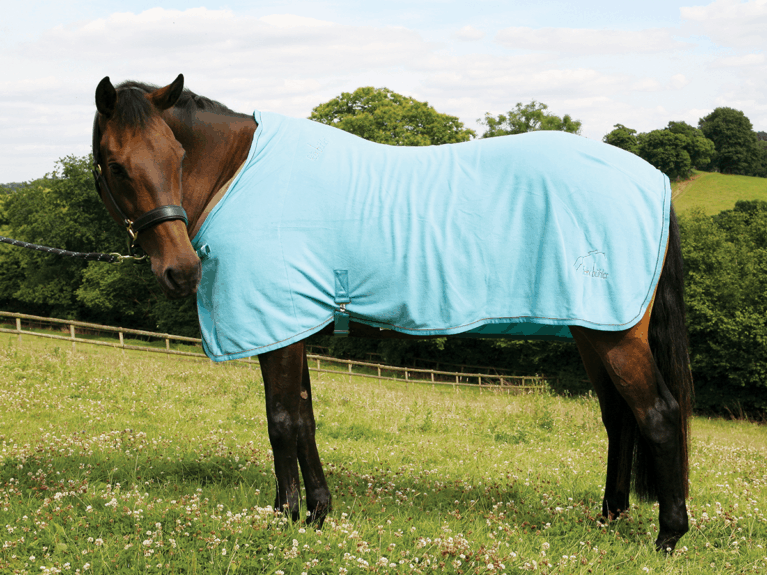 Felix Bühler cooler with fleece collar
Colours: Chocolate, marine, ocean blue or pearl pink
Sizes: 4ft 6in – 7ft
A soft, polyester fleece cooler with a single front closure and surcingle.
"It looked very smart on and I liked the softness of the fleece material. I used it mainly to prevent any chills after a bath or if I was caught in the rain. It didn't slip while I had it on my horse, although I wouldn't leave it on overnight as it only has a single surcingle strap. It came up a little short, so I would recommend a size up."
Bridleway jersey cooler
Sizes: 5ft – 7ft 3in
A wicking, smooth, knitted outer fabric with a fleece inner surface, adjustable cross surcingles, a fillet string and a tail flap.
"It was a good fit on my horse and true to size. I really liked the jersey material as it looked smart and didn't attract too much hay and hair, so it stayed fairly clean. The fleece inside worked well to wick away any moisture. I mainly used it after exercise on cooler days or after a bath, although it was a bit too warm to use it for travelling. I thought it was a useful, versatile rug. I liked the blue colour, but perhaps some other options would be nice as well."
Rambo Techni waffle cooler
Sizes: 5ft 6in – 7ft 3in
White, lightweight fabric helps reflect the heat of the sun, while the waffle design helps wick moisture away quickly.
"The fit was good for my horse and it's true to size. I liked the fastenings, as they were easy and quick to use, and seem very robust. I also liked the quality of the material, as it feels made to last. It's not too thick, which makes it good for autumn or spring days. It's very smart, but because it's white, I felt it was only practical to use it after bathing or at shows."
Derby House Pro fleece combo
Sizes: 4ft 6in – 7ft
Made from wicking material with a full neck. It features lined shoulders and a double buckle chest fastening.
"I liked the quality of the fleece – it felt thick and soft, and I was happy it would keep my horse warm on colder days. It has good, secure fastenings that kept it well and truly in place. The buckle fastenings at the front were great for my horse as he has quite broad shoulders and it was helpful to have the extra adjustability. I used it mainly after exercise or bathing on cooler days to prevent any chills. I'd prefer a bit more depth to the sides and the neck, but in general it's a good value, versatile fleece."
Rhinegold Celltex multi-purpose rug
Sizes: 4ft 6in – 7ft
Made from a technical, stretch acrylic fabric to help regulate temperature, it's breathable and moisture wicking, and has a double chest strap, cross surcingles and a fillet string.
"This was a good fit for my horse, although it could be a bit short in depth for some horses. It looked really smart and I liked the colour scheme. The material is thick and good quality, so I felt it was very good value for money. I used it for travelling in the winter, and after exercising and bathing. The straps kept it secure, so I was happy to leave it on overnight as an additional layer when it was really cold. I would prefer clip fastenings at the chest than buckles, because it's faster when changing lots of rugs, and perhaps a heavier weight webbing on the straps."
Eskadron Pro-Cover rug
Sizes S–XL
Generously cut with an integrated fleece back for maximum wicking and warmth, and removable cross surcingles.
"It fitted my horse well and I really liked the design of part mesh, part fleece to keep his back covered. I used it after exercise and it helped to dry him off quickly. I liked that the surcingles were removable, so it was easy to throw on over tack without straps hanging down. I used it for travelling on cold days and after baths. It's quality material, too, so good value for money. I'd like the fleece material to come around the shoulder and chest area, too, to help dry this part just as quickly."
Mark Todd deluxe half mesh cooler
Sizes: 5ft 6in – 7ft
Breathable and wicking upper, and a lower mesh section to allow the air to circulate. It has double front buckles and anti-rub shoulders.
"It was a good fit, true to size and looked very smart on my horse. I liked that it was so lightweight and the lower mesh part allowed the air to circulate well. The fastenings were good quality and had plenty of adjustment, so the rug stayed secure and didn't slip. I used it for travelling, standing by the lorry at shows and also after bathing. It's a good-quality rug and for the price it's excellent value for money.  I felt the fleece panel over the back didn't wick away moisture quite as well as I would have liked, so perhaps a better wicking material would make this rug perfect."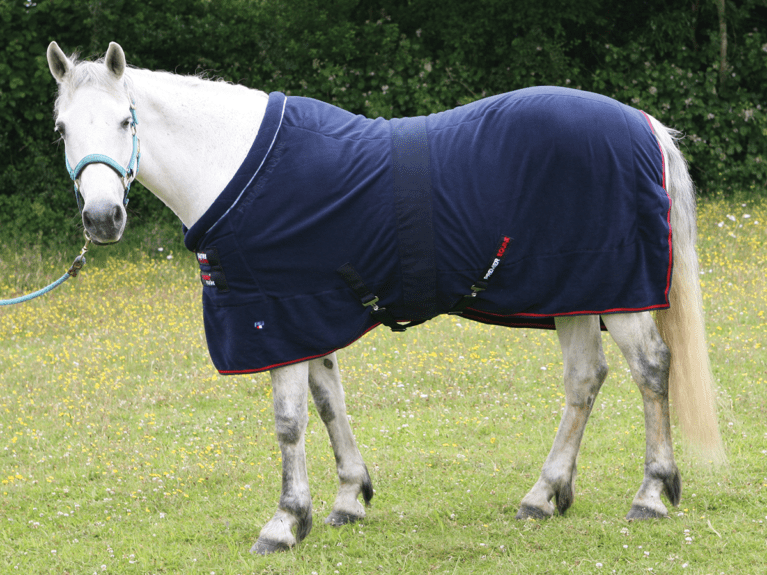 Premier Equine Buster Prestige fleece cooler
Sizes: 5ft 6in – 7ft
Made from 280g anti-pill polar fleece with a rolled neck, shaped seams and no back seam.
"The fit was true to size and there's a lot of adjustment in the straps. I liked that there's good depth to the rug and that it came with a replacement fillet string. The roll neck is a lovely feature and makes it look very cosy. The material is very good quality, it didn't bobble after washing and still looked smart after a lot of use. I mainly used this rug for travelling, keeping warm at shows and after a bath. It's so lovely I couldn't bear to use it as a stable rug, although it would be good for this as the fit and straps keep it all in place well. The design took a bit of getting used to, as it isn't as easy to put on straight without a back seam, however, the overall fit is better for it."
WeatherBeeta Thermic standard neck quilt cooler
Sizes: 5ft 6in – 7ft 3in
A soft, multi-layered polyester knit outer that wicks away moisture. It has adjustable double chest closures, satin-lined shoulders, low cross surcingles and a fillet string.
"This rug feels really high quality. I love the smart quilting on it and the fit was excellent on my horse, who has quite a broad chest and is usually tricky to fit for a rug. The wither padding is a nice touch, and I found the fastenings robust and easy to use. The darting around the quarters could have had more shape to it for my taste."
Bucas competition cooler
Sizes: 5–7ft
A lightweight cooler made from a combination of wicking fabric on the upper and fly mesh fabric on the lower part to allow air to circulate more easily.
"It was true to size and a really good fit for my horse. I especially liked the fit around his neck as it wasn't too low. He gets hot easily, so this was a good option for him, as the mesh part meant he didn't overheat. It has warmer, wicking material over the top, so I didn't have to worry about him getting a chill on his back after exercising. I used it for travelling, too, especially when I was coming back from shows. A good option for most cooler days, but I would want something a bit thicker if it was really cold and windy."
LeMieux Four Seasons rug and neck cover
Colours: Benetton blue, black, navy or burgundy
Sizes: 5ft – 6ft 9in, neck cover M–XL
Neck cover £36.95
A top layer that wicks away moisture and a warm, fleece inner lining that allows air flow.
"The fit was excellent, true to size and there was good adjustment on the straps. I loved the luxurious feel of the thick fleece – it's really good quality and feels like it's made to last. It hasn't pulled or stretched out of shape at all. The detachable neck cover came quite far down over my horse's shoulders and withers, so there weren't any gaps, even with his head down. There is only one surcingle strap, so I didn't feel I could use it as a stable rug."
Masta Wickmasta
Sizes: 4ft 6in – 7ft 6in
The high-wicking lining and wide fleece layers help transfer moisture quickly to the outside of the rug. It has a single surcingle and front strap.
"The rug was a really good fit and I would say it's true to size. It was easy to put on and take off as it has clip fastenings which were quick to use. I also liked that it has long sides, which kept my horse well-covered. It looked really smart, so I was happy to use it at shows. It was also brilliant to use for bathing on cooler days, as it kept my horse warm. I found the belly strap was a bit too long for my horse, even when I had it adjusted to it's shortest length."
Thermatex SHR rug
Colours: Available in 23 variations
Sizes: 4ft – 7ft 3in
No joining seam, so the rug moulds to your horse's shape, and direct contact ensures efficient use of the wicking technology.
"This rug was perfect for use after exercise and worked well to cool my horse down without him getting a chill. I also used it for travelling when the weather was a bit cooler, after a bath and under a stable rug as an additional layer. It worked brilliantly to remove any moisture – I could see the beads of water on the surface of the rug as it allowed him to dry.  The sizing came up quite big. I found a size smaller than I would normally buy was the best fit."
More Tried & Tested Products