50 horsey things you should do at least once
Posted in News
From great days out to once-in-a-lifetime experiences, we've compiled the ultimate equestrian bucket list. Tick off each one you achieve – what are you waiting for?
1. Ride on the beach
Whether you take your own horse or book a beach ride at a local stables, there's something magical about riding across the sand. Lots of beaches around the UK are open to horse riders, particularly in the winter, but choose a quiet time of day if you want to take the handbrake off. Check out our list of beaches here.
2. Attend Royal Ascot on Ladies' Day
Horse racing may be the sport of kings, but Ladies' Day at Royal Ascot is all about… well, the ladies! So, grab your largest hat, don your poshest frock and try not to get so distracted by all the outlandish outfits that you miss the actual racing. You may even spot some royals in the crowd, so keep your eyes peeled. 
3. Go on a riding safari
This was top of nearly everybody's list in the H&R office. Being on horseback allows you to get close to some of the most magnificent animals on the planet, including zebra, giraffe and elephants, and to cover terrain inaccessible by vehicle. 
4. Have a lesson with a top rider 
There's nothing like learning from the best, whether you've got lofty competition ambitions or just want to improve your general riding. Keep an eye out for clinics at local equestrian centres or cross-country courses. Alternatively, if you can't take your horse, go along to a demo and pick up some great training tips.
5. Lakeside picnic parking at Burghley Horse Trials
Prepare the canapés, put the champagne on ice and shake out your tartan blanket – not only can you enjoy your lunch in style, but you've also got the perfect viewing spot to enjoy all the action.  
6. Watch a polo match
Polo is fast, furious and impossibly glamorous, especially when enjoyed with a glass of bubbles in one hand. If you're looking for something a little different, try beach polo or snow polo.
7. Camp at Badminton Horse Trials
From the first horse inspection to the final presentation, watch every minute of what's considered by many to be the world's most difficult four-star event. Plus, you may bump into past winner Michael Jung trying to buy carrots for his horses in the local corner shop – true story! 
8. Have a lesson on a schoolmaster 
Whether you want to tackle bigger fences or get a feel for more advanced dressage movements, a schoolmaster has the expertise to help. Riding a horse who knows what he's doing will give you the chance to focus on your own position and confidence.  
9. Get a selfie with your favourite top rider 
It's said you should never meet your idols, but surely a quick picture can't hurt? Here are our top tips for selfie success…
pick your moment – if the object of your selfie desire appears to be in a hurry, on the phone or talking to other people, then it's probably not the right time to approach them
pick your event – there's less segregation between riders and spectators at smaller competitions, so it's not unusual to find top riders in the bar or perusing the tradestands
be polite – ask if it's okay to take a picture and thank them afterwards
be prepared – before you approach, make sure that your camera's ready to go. If you also want an autograph, have a (working) pen and paper in your hand, not at the bottom of your handbag

 

use every opportunity – tradestands at larger events will often have brand ambassador signings, so keep your eyes peeled
10. Spectate at a foreign competition
Whether it's an exotic location on the Global Champions Tour or the Central Park Horse Show nestled in the concrete jungle of New York, you're spoilt for choice when it comes to combining your love of horses with some international travel. It's also a great way to bribe non-horsey friends and family to come with you.
11. See the Spanish Riding School perform in Vienna
Housed in a former imperial palace, the Spanish Riding School is home to the white Lipizzaner stallions – the original dancing horses. Take a seat in the winter riding school, which comes complete with chandeliers, balconies and oil paintings, and watch as they perform their famous airs above the ground. Visit srs.at to find out more.
12. Have a go at side-saddle
This is one for fans of period dramas or those who just fancy trying something a bit different! There are a number of qualified instructors across the country, so visit sidesaddleassociation.co.uk to find one.
13. Coursewalk at a four-star event
The mind-bogglingly huge fences in top-level eventing have to be seen to be believed. Sign up for a coursewalk with a top rider for a unique insight, or get a sense of the scale by getting up close once the competition has finished.
14. Ride an Arab horse across the desert
If you've read The Black Stallion or watched Hidalgo, then this is an obvious one. The speed and stamina of Arab horses mean they cover the desert with ease, leaving you free to enjoy the breathtaking scenery. 
15. Have a go at trick riding
Test your nerve by trying stunt riding at an approved centre. Whether it's hanging sideways from your horse or having a go at horseback archery, you can learn what goes into training the horses and riders you see on the big screen. 
16. Experience an Icelandic horse's extra gaits
As well as being adorably fluffy, Icelandic horses – despite their small stature, they aren't called ponies – are known for their extra gaits, the tölt and the flying pace. For an authentic experience, book a trip to the land of ice and fire so you can have a go surrounded by lava plains and geysers.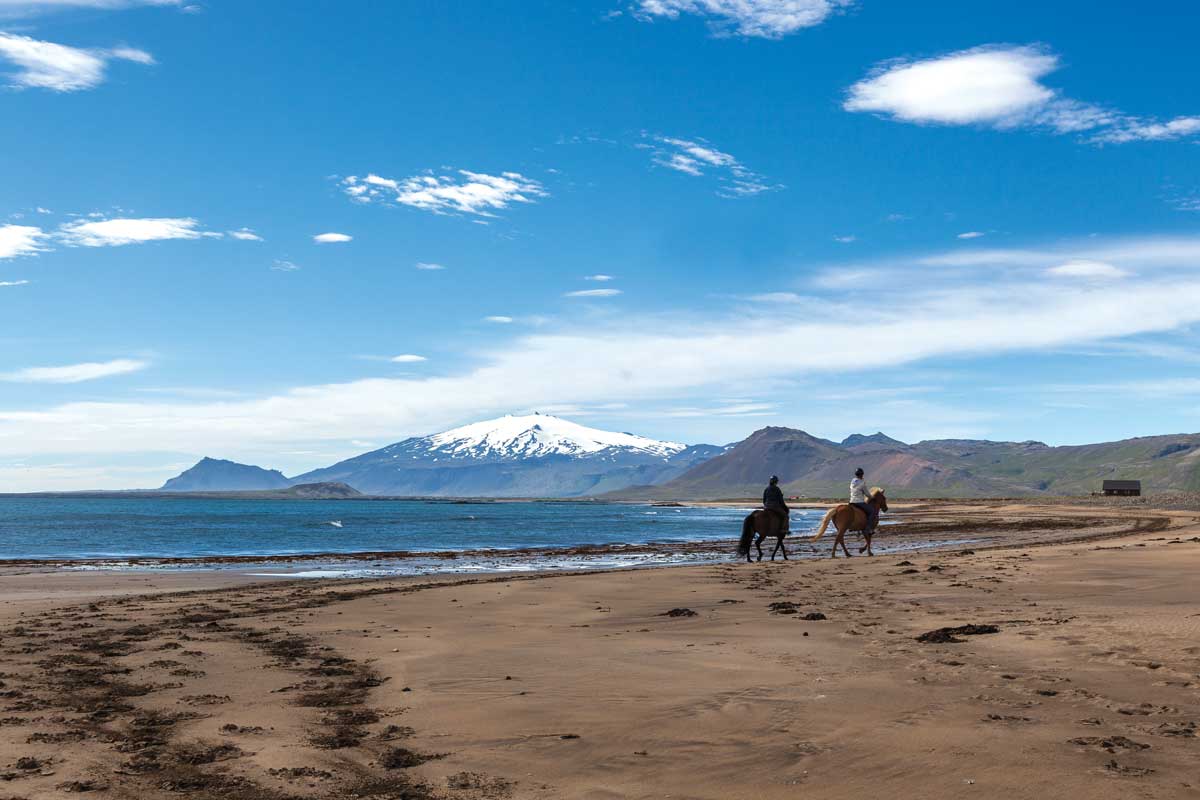 17. Spectate at a championship event 
There's nothing like experiencing the atmosphere of a major championships. There's plenty to choose from including, World Equestrian Games, the Olympics and even the FEI European Championships.
18. See your horse's breed in its natural environment 
Whether it's Haflingers in the Austrian Alps or Andalusians at a Spanish hacienda, visiting where your horse's breed originated can help you to understand his personality. Alternatively, visit a national stud where you can learn about the history of the breed – and there's the advantage of cute foals. 
19. Gallop a Thoroughbred
Thoroughbreds are the Formula 1 cars of the equestrian world, so having the opportunity to experience their speed is the ultimate buzz if you're a bit of a thrill-seeker. 
20. Go trail hunting
Polish your boots, dig out your warmest breeches and experiment with tipples for your hip flask. If your horse hasn't hunted before, consider an experienced hireling who can show you the ropes and give you confidence.
 21. Swim with a horse
While horses are certainly more at home on land, they can be surprisingly competent swimmers. Feeling half a tonne of horse suddenly suspended in water is a unique experience.
22. Have your photo featured in an equestrian magazine
It's thrilling to see your photo in the pages of your favourite magazine, but not as unachievable as you might think. Write H&R a letter or send us a picture of you trying out something you've seen in a recent issue and this one could be ticked off your list sooner than you think. 
23. Own a pair of made-to-measure riding boots
They may not come cheap, but riding boots made for your feet are the ultimate comfort, particularly if you're wearing them all day. 
24. Herd cattle on a ranch 
Do you have fantasies of the Wild West and being swept off your feet by a hunky cowboy? While we can't guarantee you'll meet your soulmate-in-a-stetson, helping drive cows across the open plain is a great thrill. 
25. Have a go at driving
There are a number of centres around the country that offer an introductory course to driving, so take up the reins and have a go! Visit britishcarriagedriving.co.uk 
26. See War Horse on stage
Following its successful West End run, the stage adaptation of Michael Morpurgo's beloved story is now touring the UK. Tissues at the ready as you witness the moving story of Joey as he faces the horrors of World War One. Visit warhorseonstage.com for tour dates and tickets.
27. Raise a foal or youngster
There's something very rewarding about watching a young horse grow up and moulding him into your perfect mount. However, it's important to make sure you have the skills and help to be able to do this successfully.
28. Ride in the Mongol Derby
The Mongol Derby is described by many as the longest, toughest horse race in the world. While galloping 1,000km across the vast, untamed wilderness of the Mongolian steppes isn't for the faint-hearted, it's a true once-in-a-lifetime opportunity. Apply at theadventurists.com
29. Watch the Olympia finale from a hospitality box
Undeniably the best seats in the house, Olympia's hospitality boxes are the perfect way to get into the festive spirit. Relax in style as you wave to Father Christmas and sing the closing carol. 
30. Go native pony-watching
Britain's native ponies come from all corners of the country and have played a key part in our history. Many still live feral in their native habitat, so tracking them down can be a great family day out. It's best done in the spring when there are foals!
31. Take part in a sponsored ride in a beautiful location
Sponsored rides are a great way to gain access to places that might otherwise not be open to horse riders, such as the grounds of Burghley House or Windsor Great Park. 
32. Compete against the professionals and maybe even beat them 
While galloping past Badminton House or jumping on the Global Champions Tour might be limited to a lucky few, it's still possible to compete against your idols. Most have younger horses coming up through the ranks, so it's not uncommon to see them competing at local affiliated events – check the start lists and you might be surprised to see some famous names. 
33. Fence judge or volunteer at a competition
This is a great way to go behind the scenes and get an insight into how competitions are run. You'll be part of a tight-knit group brought together by the shared love of the sport. 
34. Take your horse on holiday
We all know the guilt of going away and leaving our horse stuck at home, plus there's the worry of what mischief he'll get up to in your absence. So why not take him with you? There are lots of places offering horsey B&B in beautiful locations across the country, and going out to explore new places can help improve your bond, too.
35. Go to the Tattersalls sales and spot the racing stars of the future
The auction hammer at Tattersalls in Newmarket comes down on some of the best Thoroughbreds in the country, so it can be thrilling to watch. You may have to sit on your hands, though – in the October 2017 yearling sales, one filly sold for 4,000,000 guineas (£4,200,000). 
36. Visit the Royal Mews, London
Based at Buckingham Palace, the Royal Mews is home to the horses, carriages and vehicles used in royal state occasions. Take a guided tour and immerse yourself in pomp and ceremony, plus learn the history of this British institution. 
37. Watch a jousting match
Feel the thunder of hooves and hear the crash of lances as knights compete in this medieval re-enactment. And if you want to imagine that it's Heath Ledger's character from A Knight's Tale under one of the helmets, by all means go ahead. 
38. Win a red rosette
Every horsey girl dreams of earning her first winner's rosette. There are options even if you aren't competitive – most shows run novelty or fun classes, which can be a great laugh.
39. Foster a rescue horse or pony
Caring for an equine who's not had a good start in life can be an incredibly rewarding experience. Many charities offer them up for fostering, so contact your local one if you think you'd be able to offer a loving, knowledgeable home. 
40. Back a Grand National winner
Whether it's in an office sweepstake or a flutter at the bookmakers, it's estimated that a quarter of the UK's population bets on the Grand National. It doesn't matter if you're not a racing expert – picking a horse because you like his name or the jockey's colours is bound to work some of the time. 
41. View Whistlejacket at the National Gallery, London
Perhaps British artist George Stubbs' most famous work, the titular horse was painted in 1762 on an almost life-size scale. It's housed in the National Gallery and has been described as a romantic study in solitude and liberty. 
42. See Trooping the Colour in London
The annual ceremony, held on Horse Guards Parade in June, marks the Queen's official birthday and is chock-full of British pageantry. Two hundred horses, including those used in the Household Cavalry and Kings Troop Royal Horse Artillery, take part. 
43. Take part in a British Horse Society challenge ride
With options all over the world, these are the perfect way to raise money for charity while pushing the limits of your riding and experiencing some of the most spectacular landscapes on offer. 
44. Walk the course at the Hickstead Derby
The famous Derby bank is unlike anything else. The best way to see it up close is to blag yourself a course-walk with a competitor, but anybody can venture onto the course and scramble to the top when the class has finished. 
45. Write your own horsey novel
Reckon you've got what it takes to be the next Jilly Cooper? Take a handsome eventer in tight breeches, an unassuming heroine and a quirky horse that only she can ride, throw in some witty banter and hilarious mishaps, and you're halfway there. 
46. Tour a famous rider's yard 
Go behind the scenes and discover the secrets of your idol's success. Some have annual open days, while others offer them as competition or raffle prizes.
47. Visit the Kelpies 
Found at The Helix, near Falkirk in Scotland, the Kelpies are the world's largest equine sculptures. Modelled on real-life Clydesdale horses, they're 30m tall and weigh 300 tonnes each. 
48. Volunteer at a horse charity
Earn yourself a feel-good glow by giving something back to equines in need. Whatever skills you have, they're sure to be of use – this doesn't just include yard work, there's also office skills or odd jobs. 
49. Commission a portrait of your horse
Create a lasting tribute in photography, oils, pastel, pencil or whatever medium takes your fancy. Each artist has their own style, so choose one that suits your horse. 
50. See all the chalk horses in the UK
Carved into hillsides around the country, some of the horses date back to the Bronze Age. There are 16 in total, including…
Uffington White Horse, Oxfordshire

 

Osmington White Horse, Dorset
Kilburn White Horse, Yorkshire

 

Folkestone White Horse, Kent

 

Cherhill White Horse, Wiltshire
Download your checklist below
Your Comments