My Christmas list
Posted in News
Take a look at what's on the market this festive season and get ahead of the game to find the perfect gift, whoever you're buying for
Wish list
Terri Crowley Art
These vibrant masterpieces are designed with digital and traditional techniques, combining skills to produce gorgeous art on museum-quality paper.
From £96.25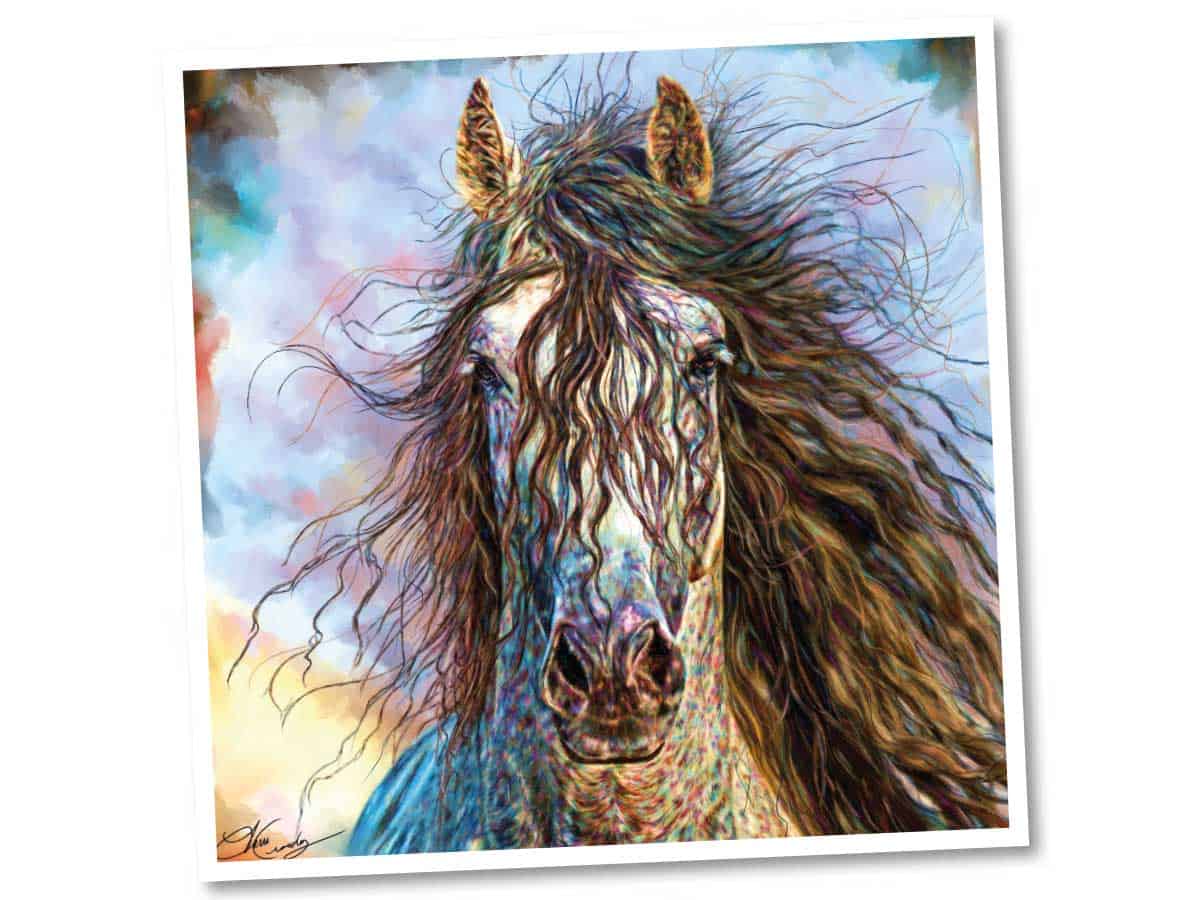 Little Bird Told Me Chester & Fred rocking horse
This rocking horse is beautifully dressed in woven, houndstooth fabric and wears a softly padded leather saddle and bridle.
£164.95
PS of Sweden riding skirt
This smart, practical skirt is ideal for keeping you warm while riding or doing jobs on the yard, with front and rear zips.
£69
A Spiritual Path for the Classical Rider
Fresh from Jenny Rolfe, this fascinating book offers a look into building empathy with your horse. Available on Amazon.
£25
Finer Equine stirrup covers
Ideal to protect your saddle from stirrup rubs, these covers include a thick, faux sheepskin backing and waterproof lining. 
£40
Equus Photography photoshoot
A gift that will truly last a lifetime. Enjoy a studio-inspired shoot with your equine best friend and capture beautiful, artistic images to treasure forever.
£175
The Horses Know trilogy
We all know there's more to horses than meets the eye. Lynn Mann's stunning novels explore what's really hidden beneath the surface. Available from Amazon and all good book stores.
£10 each
Scorching North Vivid Bouquet riding tights
These vibrant riding tights are made from a four-way stretch fabric with asymmetric seams, a high waist and full silicone seat. 
£49.95
LeMieux Loire jacket
This elegant jacket adds a hint of sophistication to anyone's winter wardrobe, with its generous collar and practical zipped pockets.
£69.95
Sidestreet Mare and Foal necklace
Capturing a mare and foal nuzzling in the shape of a heart, this gorgeous necklace is the perfect gift for horse lovers.
£20
Emily Cole Illustration's 2020 calendar
Including 12 beautiful illustrations, Emily's fun style of illustration reflects the many thrills and spills of horse ownership. 
£10
Perfect Ponies Ringside boxes
The perfect gift for the showing enthusiast this Christmas, these boxes are jam-packed with exciting products.
£39.99
Fouganza Kipwarm waterproof jodhpurs
Specially made to withstand the winter weather, these jodhpurs are ideal for keeping you warm, dry and comfy while you ride.
£39.99
JSW 4 Jumps Dungbeetle
If you're after a design that's tough, bright and versatile, this is the scoop for you. Lightweight and strong, it's the ultimate in practical yard kit. 
£55
Georgian Dollar Sieta Equestrian Jeans
These high-quality, soft denim jeans include a discrete silicone grip seat and smooth, Lyrca ankle cuffs. 
£92
Samberwill Equestrian Cushioned Sole horse riding socks
Gorgeous, comfy and warm, these riding socks offer a great fit and cushioned sole. 
£10 per pair
Roeckl Warendorf winter gloves
Tight-fitting and stretchy, these gloves also feature a suede palm with silicone grip and a waterproof, breathable outer. 
£54.95
LeMieux Drytex waterproof breeches
These windproof breeches are durable and breathable – ideal for wet and wintery days at the yard.
£99.95
3 Donkeys Dartmoor coverall
These practical 2-into-1 weatherproof coveralls consist of a jacket and trouser, connected by a zip at the waist. 
£350
Equestrian True Seamless underwear
Made from soft, moisture-wicking fabric, this underwear promises a comfortable ride. 
£34.20
Hit Air vest
The ultimate in riding protection, these vests expand outwards and include extra areas of inflation to protect your neck and back.
From £435
Your horse
Gentil bitless bridle
With its shaped, padded headpiece and noseband, this bridle is designed to keep your horse comfortable while riding bitless.
From £195
Silverfeet QuickPick
The QuickPick offers a handy, easy-to-use hoof pick, with two brushes for cleaning or applying hoof products.
£6.95
Mini Horslyx
The perfect way to wish your horse a merry Christmas. They even come in a variety of flavours to suit his tastes.
£4.50
Salute Equestrian Click and Connect neckstrap
This high quality neckstrap helps you work in better balance and confidence with your horse. You can even personalise it to suit your tastes.
From £84.95
LeMieux Lustre rug
Super-smart and beautifully quilted, this rug includes a luxurious fleece collar and faux-fur lining for comfort.
£149.95
Friends and family
Pegasus Vitality bracelet
This silicone Vitality bracelet is as useful as it is beautiful, aiming to help you sleep and ease aches and pains. 
£25
Redwings recycled wool rug
Beautiful and practical, this 100% wool rug is made from recycled fibres.
£20
Event Equestrian women's contrast zip jacket 
Windproof, waterproof, breathable and functional, this jacket will have you covered in your winter wardrobe. It's available in four colours, too.
£118
Crown & Paw pet portraits
With these gorgeous, custom pet portraits, you'll see your pet transformed into renaissance royalty.
From £39
Pikeur Alice waistcoat
This stunning, soft down waistcoat includes a detachable hood and faux-fur trim – a gorgeous addition to your wardrobe. 
£199.95
Heated head and ear warmer
Made from plush microfleece, this high-tech, heated winter warmer will make cold ears a thing of the past. 
£69.99
Toggi hat, scarf and gloves
These gorgeous, toasty items, made from a blend of lamb and alpaca wool, are sure to keep you cosy as the chill begins to creep in. 
From £25
Your Comments