Q: Is point-to-point racing the same as steeplechasing?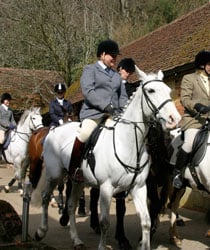 Horse&Rider answers:
The two are very closely linked… Steeplechasing started when men would race their hunters across the countryside from one church steeple to the next, or from 'point-to-point', as they galloped through the villages.
The first recorded steeplechase took place in 1752 between two riders, Cornelius O'Callaghan and Edmund Blake, taking them over a course of natural obstacles such as stone walls, ditches and hedges, and 4½ miles. These days, however, races are mainly run over three miles over steeplechase fences of about 4ft 3in (1.30m).
Want Horse&Rider delivered to your door each month?
Your Comments