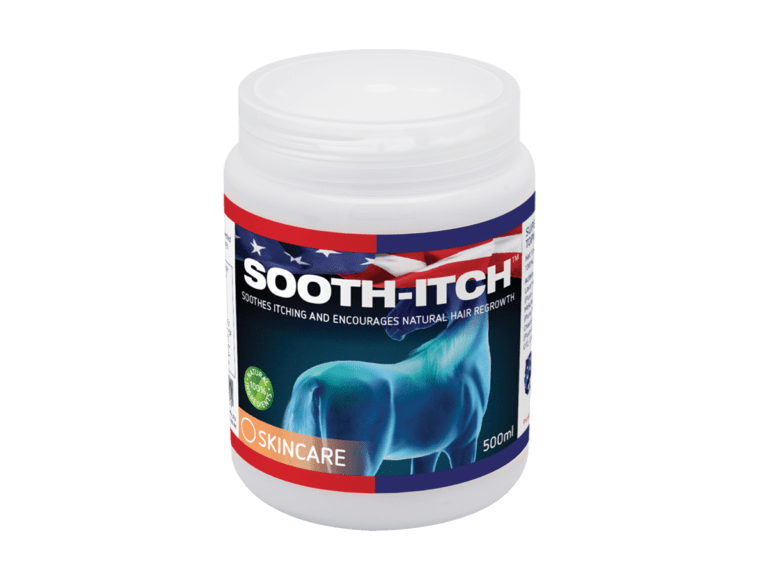 Sooth-Itch
RRP £15.99 for 500ml
justequine.co.uk
Contains lavender, tea tree and chamomile oils to help relieve itching, soothe and encourage hair to grow back naturally.
RenaSan First Aid Hypochlorous antiseptic
RRP £7 for 100ml
renasan.co.uk
Non-toxic and pH balanced for horses' skin, it kills micro-organisms and stops the itch and, therefore, the scratching.
Biteback Sweet Relief lotion
RRP £9.39 for 500ml
bitebackproducts.co.uk
Spray lotion for guarding against skin rubbing. Ideal for areas that are difficult to cover up, such as legs.
Lincoln Stop the Itch
RRP £32.09 for 500ml
battles.co.uk
A soothing lotion that relieves discomfort in horses suffering from sweet itch.
Dermoline Sweet Itch lotion
RRP £22.73 for 500ml
battles.co.uk
This licenced veterinary medical product is designed to alleviate and prevent sweet itch. It can also be used before sweet itch sets in.
leovet bio-Skin oil
RRP £19.99 for 500ml
Facebook @leovetUKIreland
Supports against the urge to scratch, as well as skin and
hair growth.
Pro-Equine neem oil
RRP £17.95 for 1l
pro-equine.com
High-quality, cold-pressed neem oil with a minimum azadirachtin (the active ingredient) content of 2,500ppm. Promotes healthy new skin and encourages quick hair regrowth.
Carr & Day & Martin Killitch
RRP £25.50 for 500ml
carrdaymartin.co.uk
Medically proven to prevent, soothe and treat sweet itch in horses and ponies. Can be used to treat active irritation or as a preventative measure in early spring.
Nettex Itch Stop Salve Summer Freedom
RRP £12.50 for 300ml
nettexequine.com
Helps protect against insects and biting flies, and provides instant relief to break the itch, scratch and rub cycle.
Amberley Aromatics Summer Relief cream
RRP £13.50 for 250g
amberleyaromatics.com Chemical-free, it reduces itching, supports skin repair and deters biting insects.
NAF Love the Skin he's in D-Itch ointment
RRP £21.50 for 600g
naf-equine.eu/uk
A nourishing ointment to help comfort areas of broken, irritated skin.