Burghley 2018: two top-ten horses withdrawn before the final trot-up
Posted in News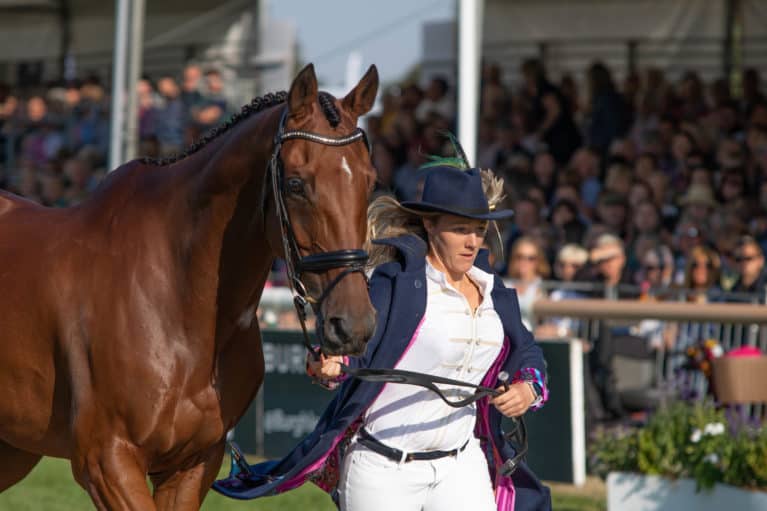 Yesterday's cross-country has taken its toll on the competitors who made it over Burghley's finish line, with several well-placed faces missing from this morning's trot-up. Here's what happened.
Ringwood Sky Boy, presented by Tim Price, cruised through this morning's trot-up. Both he and Tim's other ride, Bango, were full of beans, showing no ill-effects from over 11 minutes of galloping and jumping across Burghley's parkland – a testament to Tim's smooth, economical riding.
However, not all were so lucky. The exertions of yesterday's course meant there were six withdrawals overnight. The most notable were Oliver's Townend's pathfinder, MHS King Joules – who'd been in 10th – and Andrew Nicholson's first ride, Jet Set IV – who'd been in eighth. That doesn't spell the end of their competition, though – Oliver still has Cooley SRS (now 11th) and Ballaghmor Class (2nd) to jump later, while Andrew still has Burghley first-timer Swallow Springs (5th).
Tina Cook and Star Witness, who rocketed from 62nd to 12th yesterday courtesy of a rare clear round inside the time, gave the morning an injection of drama when they were sent to the hold box. Those spectators who'd braved the early start were on the edge of their seats as they represented, but this time the ground jury accepted them. They also benefit from Oliver and Andrew's withdrawals, which edge them into the top ten.
The rest of the trot-up went without a hitch, with the remaining horses very quickly being passed by the ground jury of Angela Tucker (GBR), Dr Ernst Topp (GER),and Sándor Fülöp (HUN).
Sunday's trot-up is never quite the fashionable affair of Wednesday evening, but that didn't stop a number of competitors from making an effort – blingy browbands, long suede boots and tweed seemed to be the order of the day. One of the standout fashion choices was Imogen Murray, presenting Ivar Gooden, who's long navy coat sported a contrasting pink lining. This was fashionably paired with a feathered navy trilby.
The Tattersalls horse care prize was won by Janet Willis, headgirl for Willa Newton and Chance Remark (10th). She's been grooming for the family for 33 years.
With the withdrawal of MHS King Joules and Jet Set IV, the top ten going into the showjumping looks like this…
Tim Price and Ringwood Sky Boy (NZL) – 27.3
Oliver Townend and Ballaghmor Class (GBR) – 27.9
Piggy French and Vanir Kamira (GBR) – 31.1
Harry Meade and Away Cruising (GBR) – 31.1
Andrew Nicholson and Swallow Springs (NZL) – 32.1
Sarah Bullimore and Reve du Rouet (GBR) – 34.9
Elizabeth Power and Soladoun (IRL) – 35.1
Richard Jones and Alfies Clover (GBR) – 37.0
Willa Newton and Chance Remark (GBR) – 38.8
Tina Cook and Star Witness (GBR) – 39.1
Visit the Horse&Rider stand in the World of the Horse pavilion near the Lion Bridge – you can pick up the latest issue, sign up for a subscription or check out our fabulous selection of books, clothing and gifts. We'll also be bringing you regular reports of all the action on our social media feeds and at horseandrideruk.com.
Images: Rachel Dyke
Your Comments