The latest coronavirus update for equestrians 
Posted in News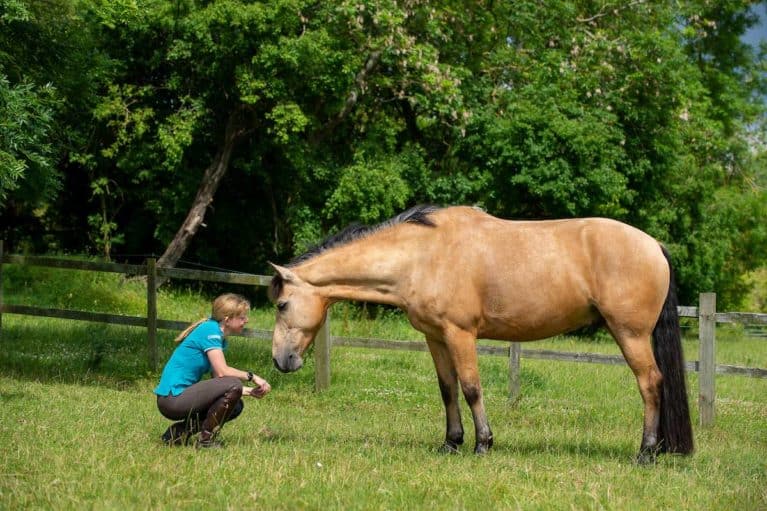 Following Prime Minister Boris Johnson's address to the nation yesterday evening (Monday 23 March), Horse&Rider has collated the latest guidance provided by the British Horse Society (BHS) and the British Equestrian Federation (BEF) – both issued 24 March – to ensure you're abiding by the Government's coronavirus guidelines
Can I go to the yard to see my horse?
The government statement said that, for the next three weeks, you'll only be allowed to leave your home for one of four reasons…
shopping for basic necessities, such as food and medicine. This should be done as infrequently as possible
one form of exercise a day – perhaps a run, walk, or cycle. This can be carried out either alone or with members of your household
any medical need, to provide care or to help a vulnerable person
travelling to and from work, but only where this is absolutely necessary and can't be done from home
The BHS explain that horse welfare is key, and therefore, "grooms or the sole carer for a horse should travel to provide care for horses. Where horses are kept in livery, the BHS advises that horse owners respect the protocol put in place by the yard owner or manager and work as a team to agree a care plan for your horse(s). At this time, there is no requirement for owners to have documentation to travel, including having their horse's passport to prove they are travelling to visit their horse."
The BEF shares a similar viewpoint, urging, "all members of the equestrian community to strictly adhere to the Government's directive to stay at home unless it's absolutely necessary to travel. The welfare of horses, and other livestock, is still essential, making your travel as an employee, owner or volunteer to provide care valid under the current guidance."
Will feed stores continue to stay open?
While currently pet shops, and feed merchants, are exempt from closures, the BHS advises against bulk buying but recommends owners check they have enough to last at least the three-week period: "Ensure you have sufficient and sensible supplies in stock for your horse. The repercussions of panic buying, as we have seen in the supermarkets, does not help the situation. Ensure you have enough for an additional few weeks in case you have to self-isolate or are ill and unable to collect any supplies. Your local feed merchant or hay supplier may still be able to make deliveries but make sure you still follow the Government guidance on social distancing and hygiene."
So, what about riding?
At this current time, guidelines surrounding riding are a grey area. The BHS states: "We are getting a lot of questions in relation to riding your horse. We advise that it is not appropriate to put unnecessary pressure on the emergency services and everyone should make their own individual decision as to whether riding is necessary at this time. An appropriate exercise plan can include regular turn out, use of a horse walker and ground schooling.
"At this time of year adjustments may have to be gradually changed to management and feeding programmes, and any horses prone to laminitis closely monitored."
Sensible measures must be followed, the BEF advising, "we recommend that people don't ride their horses unless strictly necessary. We should all respect the Government's message of 'stay safe, save the NHS, stay home', and carefully consider the risks associated with riding. As a community, we should not be putting any additional pressure on our emergency and NHS services. Personal circumstances will vary and we respect that individuals and businesses are being affected heavily in this situation, but we should all consider the potential impact of our choices.
While we can only offer advice, we would ask all riders to make an informed decision on whether to ride or not. If you do make the choice, we urge you to please ride within your means, wear up-to-standard safety equipment, avoid any high-risk activity and stay within the boundaries of your yard environment."
Echoing their advice of the previous day, they also continue to recommend against any unnecessary travel, which "includes transporting your horse for anything other than emergency care. Travel to competition or training venues, having a coach travel to your yard, having a lesson at a riding centre or riding in large groups is not advised."
In a similar vein, the government states: "You may leave your house to exercise once a day and you should combine this with leaving your house to provide care for your horse or livestock. It is essential that you minimise the time spent outside of the home."
Will routine appointments still go ahead?
Check in with your vet regarding their current policy for non-essential or non-emergency visits, which may include booster vaccinations. The British Equestrian Veterinary Association has advised its members to focus on emergency treatment at present. Many veterinary practices are posting on Facebook their practices' current policies. If your horse needs a vet and you're self-isolating or ill, don't attend to help ensure the health of their staff. Many practices may be able to bring an additional practice staff member to hold your horse if no one's available at the yard. The Royal College of Veterinary Surgeons' current advice, while they seek clarification from the Government is that "veterinary practices must reduce face-to-face contact immediately, switching to providing emergency care only and fulfilment of urgent prescriptions".
For information regarding vaccines, visit https://www.horseandrideruk.com/news/bef-offer-clarity-regarding-coronavirus-and-vaccinations/
Farriers are permitted to work, but it's best to contact yours before any visit to discuss precautionary measures so you're both ready for them. The British Farriers and Blacksmiths Association have advised their members: "Farriers provide a vital role in maintaining the welfare of many equines. It is our understanding that you may travel to work but please carefully consider if this is essential. We are expecting further clarification very soon. Please adhere to the highest levels of biosecurity and be seen to be adhering to them. We encourage you all to consider very carefully your movements and what you class as being essential."
For more information, visit https://www.horseandrideruk.com/news/routine-equine-appointments-what-should-you-do/
What if I have to self-isolate?
While the current situation continues to evolve at a rapid pace, it's sensible to come up with a contingency plan with your yard owner or manager, or your fellow liveries, for what will happen if you're unable to get to the yard. H&R have put together some handy guidelines to help you. If you have no alternative and it's a question of welfare, you can attend to your horse but only as a last resort and you must remain within your own property boundaries at all times.
The BEF have also issued the following guidelines to ensure your yard routine adheres to the strictest biosecurity measures…
Going to the yard
keep visits to a minimum without compromising your horse's welfare – consider a buddy system with another livery
go to the yard solo – no passengers, family or children
change into clean yard clothes
wash your hands with soap and warm water before leaving the house
consider putting your horse on full livery if it's available and financially viable
if your horse is on full livery, only make essential yard journeys. Keep in touch by phone, email or video call with the yard
At the yard
respect any restrictions put in place by your yard owner or manager – they're for your safety and their own
wash your hands thoroughly on arrival – take soap and water with you if the facilities aren't available
maintain social distancing with other liveries and avoid common areas, such as tea rooms, as much as possible. Keep at least two metres apart at any time
use your own equipment. If you need to use shared equipment such as wheelbarrows or hosepipes, disinfect the areas you're touching or wear disposable gloves
avoid activities that carry an increased risk of injury and consider wearing an up-to-standard riding hat while handling your horse
assess your horse's diet, and reduce energy intake according to the reduced levels of exercise you may be providing
take advantage of feed, hay and bedding suppliers who offer a delivery service, and liaise with them closely to ensure that their service isn't impacted. Make provision of essential supplies so you are prepared in the event of a shortage
limit the number of visitors to the yard, and ask that those who do visit closely follow hygiene and social distancing guidance
Leaving the yard
keep your visit timely and avoid lingering – only carry out what's necessary to ensure your horse's welfare and wellbeing
wash hands thoroughly before leaving the yard
if you have hand sanitiser that's at least 60% alcohol, use it to clean your hands when you get into your car
Arriving home
wash hands with warm water and soap straight away
have a specific 'yard visit' towel to dry your hands on
get changed immediately into clean, fresh clothes
While the guidance above is correct at the time of publishing, the situation is ever evolving. While we'll endeavour to keep everyone up to date, please follow the GOV.UK website for all the latest general advice.
Your Comments