Featured Professional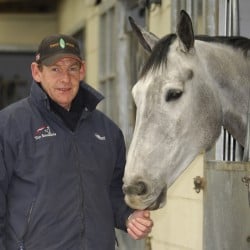 Tim is one of the country's foremost showjumpers and trainers, having represented Great Britain on over 50 occasions. He is a board member of British Showjumping and has served as Chef d'Equipe of the British team.
Perfect your jumping position and flying changes.
In this instalment of our terrific Tim Stockdale showjumping series, we start to raise the bar. Tim prepares you for leaving the ground, with some simple, but all-important polework exercises.
Jumping Position
There are a few key things to remember when it comes to your own position. First and foremost you must go into a position that allows your horse to jump – itself an intricate three-stage process.
Direction
A pole on the ground is ideal for introducing a young horse to the flying change, as it is for riders who are learning ride changes. The flying change is an important movement in showjumping when changing direction, but when performed it should not affect the horses balance or rhythm.
Your Comments