Featured Professional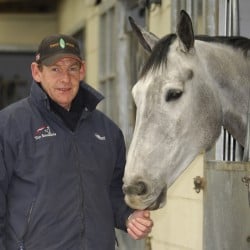 Tim is one of the country's foremost showjumpers and trainers, having represented Great Britain on over 50 occasions. He is a board member of British Showjumping and has served as Chef d'Equipe of the British team.
In part three of our series, Tim teaches you to feel a stride and confidentlY tackle fillers.
Counting a stride
For the purpose of these demonstrations Tim's striding is;
One human stride = 3ft (0.91m)
One horse stride = 12ft (3.65m) or four human strides
Stride Relation
This exercise builds on the 'pole to cross-pole' exercise in our February 2012 issue. Tim explains "Approaching in trot using the placing pole on the ground will get you to the jump in the right place and help your timing for adopting the jumping position." He adds "you should land in canter."
Seeing a stride without the aide of ground poles
When you and your horse are succesfully into a ryhthm, take all the poles away, including the first placing pole, and you see if you can do it without!  "You can now start cantering into the first fence too. Concentrate on keeping the rhythm to the first element, land and maintain a nice, smooth rhythm for four strides and over the second."
Progressing to fillers
Here Tim demonstrates how to add fillers gradually to your training. "Start by adding both elements of the filler at the edge of the jump, then gradually draw them in. Start off with them at the very edge of the jump, leaving a clearly defined gap in the centre of the jump". Once his confidence grows draw them in until he can fly over them with ease, if he panics draw them apart again so he can get used to them.
Your Comments